Our references speak for themselves. The quality of Bamboo X-treme® is recognised by numerous (wood) distributors, installers and users. But why is MOSO® leading in bamboo decking, what is the difference with other manufacturers? MOSO® Bamboo experts know better than anyone what is on offer with outdoor bamboo products. We have seen countless products that could not withstand the (European) conditions. Or that do not meet the high requirements that are set for decking boards. Our customers can confirm: Bamboo X-treme® is the leading collection of bamboo outdoor products. Why Bamboo X-treme®?
The bamboo decking boards range is complete with various sizes, surface treatments and finishes, complemented with accessories for installation and maintenance.
Bamboo X-treme® is proven in numerous durability, fire safety and mechanical resistance tests, carried out by European test laboratories.
An innumerable number of reference projects in 60 countries show that the bamboo boards will remain beautiful for years to come.
MOSO® has specialised exclusively in bamboo products and focuses entirely on the quality, durability and the innovations in bamboo products.
Go directly to the advantages and product specifications for Bamboo X-treme® Decking.
The history of bamboo decking
More than 10 years ago, bamboo decking was introduced to the market. Until the end of the 1990s, wood was the standard product for terraces, in addition to stoneware tiles. Impregnated wood or (tropical) hardwood was chosen. At the end of the 1990s, a new product was introduced by various manufacturers: composite. This product consists largely of plastic mixed with wood fibres. The product is not known for its ecological sustainability, though manufacturers claim this is the case. However, it did provide an answer to a growing demand in the market for an alternative to tropical hardwood. This gave the MOSO® team an idea: can we develop bamboo products that can be used outdoors?
Until that time, MOSO® mainly sold bamboo indoor flooring, panels and other decorative materials. Bamboo, just like soft woods such as spruce, is not durable for outdoor applications by itself. With a high sugar content and relatively low density (700 kg/m³), the raw material is not ideal for use as a decking board. It took a few years before the solution for outdoor applications was found: thermal modification in combination with high pressure compression. The thermal modification removes the sugar from the bamboo fibre bundles and the compression increases the density to 1150 kg/m³. At the beginning of this century various production processes were tested. In 2008, an extensive testing process started, followed by a cautious market introduction. The production process was improved and in 2009, Bamboo X-treme® was launched on the market as a decking board.
Ten years of bamboo decking
The advantages of Bamboo X-treme® were initially related to environmental aspects: made from the fastest growing plant and without the addition of plastic. Over the years, more advantages became apparent:
Biological durability class 1 according to EN 350 (CEN/TS 15083-2 and CEN/TS 15083-1)
Very high stability (length: + 0.1%; width + 0.9% (24 hours in water 20°C))
Very hard (Brinell hardness: ≥ 9.5 kg/mm² (EN 1534)
Fire resistant without the need of fire retardants (Fire class Bfl-s1 (EN 13501-1)
Low-maintenance, annual cleaning and oiling if desired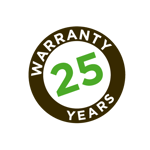 After 10 years of sales and with installations in countless places around the world, MOSO® concluded that the product is mature and that a 25-year manufacturer's warranty can be guaranteed.
Meanwhile, other bamboo manufacturers were not sitting around fiddling their fingers and more bamboo decking boards were presented each year. From light brown to dark brown, strongly resembling Bamboo X-treme®, or rather resembling bamboo indoor flooring, many different options emerged. MOSO® tested several boards but the stability and durability have never reached the same level as Bamboo X-treme®.
Bamboo Decking Toolkit
If you want to know all about the advantages and possibilities with bamboo decking, we would like to offer you our complete Decking Toolkit. This document contains all important information about the material, installation, maintenance and what you can expect from a terrace that is both durable and long lasting.