"Low maintenance", "maintenance free", "hassle free deck"; these are among the hooks to reel you into the newest range in outdoor decking: composite alternatives. But what does composite mean exactly and what are we getting ourselves into? And how does composite perform in comparison with Bamboo X-treme®? In order to tackle this, the product will be discussed and compared to bamboo based on the different life stages: growth, production, use and end of life.
What are the different types of composite decking?
Let us first distinguish the different types of composite or plastic decking before we can understand how they are made. In general, there are several ingredients that are used quite consistently, but the production process and the amounts of these ingredients differ. The 3 general types of these decking boards are:
Composite decking (wood-plastic decking/WPC) - generally a wood fibre / plastic mix

Capped composite - almost the same as WPC, but with a polymer outer layer

Plastic decking (polyvinyl chloride/PVC) - 100% plastic
The main ingredients of all these are generally the same but with different amounts and different quality ranges: Wood fibres - wood particles / wood flour / wood dust / sawdust, and Oil-based plastics - polyvinyl chloride (PVC), polyethylene (PE) or HDPE (high density polyethylene) or polypropylene PP.
Growth: What components do you find in composite and bamboo decking?
For this comparison, composite decking will be further looked at as this is most commonly compared to hardwood / natural decking based on performance and look.
Composite Decking components:
Plastic (40-70%): PVC, PP or PE (Main component)
Wood fibre (dust / particles / wood chips) (Secondary component)
Bonding agent (in some cases)
Pigment (carbon black (CB), titanium dioxide (TiO2))

(MSDS sheets from the larger composite manufacturers, TREX, INNOWOOD, TimberTech, Wellmade WPC)
Plastic
The type of plastic depends on the manufacturer, the most commonly used plastic for composite decking is Polyethylene (PE) or HDPE (High Density Polyethylene) pellets, though PVC (polyvinyl chloride) is also often used. HDPE is the most commonly used plastic in the world and the packaging industry makes up for 70% of this, from shampoo bottles to chopping boards, it's all HDPE. However, recent trends are steering WPC manufacturers to use Polypropylene PP instead as it is less brittle, more resistant to chemicals and has a higher melting point. This element is purchased by the manufacturer, usually as small pellets, to make it easier for production.
Wood fibre
Composite decking companies have different names for this element, some call it wood particles, wood dust, wood flour, wood powder. The most common types of wood used for this component are beech, pine, pressured pine, western red cedar, wood pellets from miscellaneous hardwoods & softwoods, but it is often a mix of many different types, depending on what the manufacturer is able to acquire. There are also manufacturers in which post-consumer wood is used, in which a second life is given. Some composite decking manufacturers claim to source their wood fibre locally, which would mean this is dependent on the offcuts and leftovers of industrial wood workers and lumber yards in the region, as this is how they (claim to) purchase this component.
Bonding agent
Some manufacturers make use of extra bonding agents in the form of chemical substances to help with the bonding of the components in the decking board. The type of agent used is not explicitly named and there seems to be no general bonding agent in the market.
Pigment
Different substances are used depending on the desired colour, usually a mix of carbon black and titanium dioxide.
Bamboo X-treme® Decking components:
Giant Bamboo 90%

Glue (Phenol formaldehyde) (Secondary component)

Bamboo
Moso is one of the giant bamboo species which is abundantly available in China. Moso bamboo stems are harvested after 4-5 years, skinned, crushed, thermally treated, dried, impregnated with glue and compressed in a mould to create bamboo decking. One of the elements that makes MOSO® Bamboo X-treme® so sustainable is the speed in which bamboo grows. This immense growth rate allows the bamboo to absorb large amounts of carbon dioxide (more than what is needed for production and transport of the decking boards) from the atmosphere and stores this in the product throughout its lifetime.
Glue
A Phenol formaldehyde glue is essential to create MOSO® Bamboo X-treme® Decking. Only working with respectable brands such as Dynea® ensures the highest quality and that no unnecessary harmful chemicals are used. MOSO® is working on finding a bio based alternative to replace this glue, however, this is something that has proved very difficult when the high quality must be retained.
Production: how is composite decking made compared to bamboo decking?
As more and more composite decking companies emerge, the differences in how the decking is produced changes, as they become "greener" - or so they say. Both composite decking and bamboo decking must be processed before they are able to become end products available for purchase. For composite decking, these processes differ per company and per product. For this comparison we will take extrusion, one of the more common production approaches, for WPC composite decking to compare to bamboo.
Composite decking production
Resource: Fossil fuel
40 - 70% plastic particles (depending on the manufacturer) mixed with wood fibres
Treatment: The components are combined and heated to high temperatures, between 165°C to 225°C, (225°C is the thermal decomposition of wood) to melt together.

Mould: There are two main processes for creating composite decking.
Extrusion or

Compression moulding: Most manufacturers use extrusion - after the components are mixed and heated to high temperatures and under extreme pressure, it becomes a molten mixture. This is then pushed out of the machine into the mould and given a wood print.
CO2 storage / impact: Both the components and the machines have a high CO2 impact, with the exception of the wood used, depending on where this is sourced. Unfortunately it's impossible to calculate the CO2 storage in an average WPC board based on publicly available information.

(Hietala et al. 2011 Processing of wood chip–plastic composites)
Bamboo X-treme® Decking production
Resource: Bio based
Bamboo strips are crushed after the stem is skinned and made into strips
Treatment: Strips are thermally treated to remove sugar and PF resin is added to bond the bamboo fibre bundles together
Mould: Treated bamboo fibre bundles are pressed into a mould at extreme high pressure to create a dense bamboo panel. This is then profiled into boards with various surfaces, end match system and clip grooves on the side for installation with fasteners.
CO2 storage / impact

: Bamboo stores huge amounts of CO2 in the growth phase, which is then stored in the product throughout its life. Based on CO2 storage calculations, the exact content can be calculated.* For this comparison, if we look at MOSO® Bamboo X-treme® Decking, 1

m²

of decking stored 31,84 kg/CO2. More information about

CO2 storage in bamboo products can be found in this blog

.
Use: how

do composite and bamboo dec

king perform?

Bamboo X-treme® is among one of the most durable natural decking solutions available, with extreme stability and durability. But how does this compare to a synthetic alternative?
| | | |
| --- | --- | --- |
| | Composite | Bamboo |
| Warranty | On average 25, and up to 50 years | 25 years |
| Weathering / UV degradation | Not naturally, usually colours will fade after time | Grey to a natural patina, can be re-oiled to a dark brown colour |
| Look | Repetitive wood print | Natural bamboo grain |
| Use Class | No biological Use Class | 4 (EN335) |
| Durability class | 1-3, plastic never decomposes but technical function does | 1 (EN350) |
| Sustainability certifications | LEED, BREEAM - depending on recycled material | LEED, BREEAM, WELL, CO2 storage calculations |
| Damage | Difficult to repair without replacing a whole board | Can be re-sanded and oiled to be just as new |
| Maintaining | Regular cleaning required. Only one colour, cannot be re-sanded, repainted or re-oiled for a new look | Regular cleaning required. Can be maintained, left to be naturally grey or treated with an oil or finish to bring out the natural bamboo colour and grain |
| Surface temperature | Composite decking becomes very hot to the touch when in direct sunlight due to the plastic components. | Natural materials are not as sensitive to direct sunlight as plastic. Bamboo X-treme® actually gains a LEED credit for its lower heating capacity (LEED credit Heat Island Effect). |
| Sagging and bowing | More joists are needed with composite decks as they are made up of wood dust and plastic particles. Meaning they have no long fibres and are more prone to sagging and bowing over time. | Bamboo decking, as other natural hardwood decking, is made up of longer fibres, making it much stronger in the length and less prone to sagging or bowing. This means that less joists are needed. This stability also allows for an end matched system (endless board effect) and edge grooved for a clip fastening system. |
End of life: what happens when the product is no longer needed?
Though composite decking is argued to be recyclable, just as any other decking material, this is questionable. The hybrid composite material that is created cannot be separated and the high content of plastic makes it unfit for repurposing, recycling or burning in a biobased energy plant, thus it will ultimately fill our landfills.
Bamboo decking, on the other hand, can be burned in biobased energy plants like other natural materials. For more about bamboo in the Circular Economy, read this article. Being re-sanded and re-treated, the bamboo decking can be just as new and repurposed. Unlike composite decking that cannot be re-sanded, nor can the natural beauty be brought out. Let us not forget that during the 25 year warranty provided by MOSO®, the natural resource Moso bamboo will have grown back 5 times already, whereas the oil based WPC alternative is using fossil based resources and ultimately filling landfills and our oceans, including the increasingly worrisome micro particle issues (World Economic Forum, Ellen MacArthur Foundation and McKinsey & Company, The New Plastics Economy — Rethinking the future of plastics, 2016: http://www.ellenmacarthurfoundation.org/publications).
What will it be: bamboo or composite decking?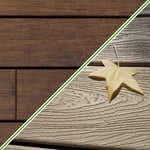 Though it is difficult to read between the lines, it is essential to do your homework when looking at investing in composite decking. It is not as sustainable as meets the eye and many of the elements that make it "green" are over exaggerated and highly elaborated. Are you interested in knowing more about bamboo decking compared to other deking materials? Take a look at our comparison overview!
*The source of information for this blog was found in technical datasheets, like MSDS documents, of multiple composite decking manufacturers. See several examples: