A deck is the focal point of a garden and of a landscape project for that matter. It presents an opportunity to make a project really stand out and steer away from a standard deck design. In order to make something really special and to translate ideas into designs, material choice is a very important part of this process. By ensuring that decking planks used do not limit design possibilities, the limitations lie merely in the tip of the pencil used to sketch up the design. MOSO® Bamboo X-treme® Decking planks are extremely stable, meaning unique designs can be created, but that is just one of the many reasons you should use consider using bamboo decking. We focus on three main reasons:
Unique – a chance to stand out and bring that wow factor to a garden or landscape
Durable – Extremely stable decking planks
Sustainable – Does more than it says on the tin
Unique
A chance to stand out and bring that wow factor to a project
Not only the unique colour allows for a wow factor in a project, but as does the way in which bamboo planks can be installed. Whether a new depth is added by using different bamboo plank widths, or a completely unique pattern is incorporated into the design, there are plenty of ways to ensure a deck will stand out from others. If that wasn't already enough, the high stability means MOSO® Bamboo X-treme® Decking planks are fitted with an end matched systems and edge grooves, allowing for a clean finish. Endless bamboo plank lengths and no visible screws, clips or fixings make for an elegant deck.
Durable
Extremely stable decking planks
Moso bamboo plants are, after processing the raw material into a decking plank, extremely hard. The high density, 1150 kg/m3, makes for an extremely dense, thus durable and sturdy decking plank. Perfectly engineered to last a lifetime, and with a 25 year guarantee, MOSO® Bamboo X-treme® Decking planks are most certainly going to ensure that the design created will be admired for a long time. This durability is tried and tested across the world, with 6 million m² installed in more than 60 countries.
Sustainable
Does more than it says on the tin
Not only do bamboo decking planks possess properties which make them perfect for any design, they are also perfect for a green future and for those more conscious of the environmental aspects of a materials. Due to the extremely fast growing speed of Moso bamboo plants, the plant absorbs CO2 from the atmosphere while releasing oxygen. This leads to carbon being stored in the plant and, thus, the decking planks that are used in a project. Through precise calculation we can find out exactly how much carbon is stored in the material used, with 1696 kg of CO2 is locked in MOSO® Bamboo X-treme® per m³ product. As well as this, harvesting Moso bamboo plants can be compared to harvesting crops, where the yield and quality actually increase. One Moso bamboo plant consists of several poles and new shoots will grow from the mother plant every year which means that by harvesting bamboo poles, this doesn't kill off the plant, in effect, you actually create room for more. All of this is recognised by many green building associations which also means that by using MOSO® Bamboo Products, a project is eligible for green building credits and certificates.
Service
With 20 years of experience with bamboo products and the introduction of bamboo decking to the market, MOSO® prides itself in the understanding and knowledge base of the engineered bamboo products. This means that there are MOSO® Experts in every corner of the world available to help you when it comes to design, installation or material calculation. It goes without saying that MOSO® Experts are extremely proud of the bamboo products and aim to get the bamboo word out by further expanding the MOSO® Bamboo X-treme® presence worldwide.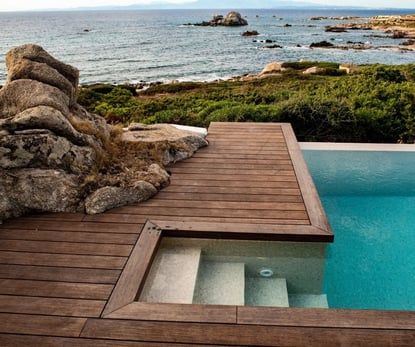 Be inspired by our Bamboo X-treme® brochure in which you will find project references and key information on decking.