A bamboo deck is a sustainable choice compared to composite, wpc and tropical hardwood decking but with a relatively new material, such as bamboo decking, it is logical to wonder whether problems can arise. After all, bamboo is a natural material that, as a plant, contains sugars and can rot. However, this is the raw material, MOSO® uses a unique production process to make bamboo suitable for outdoor use. Problems with decking commonly arise if the material is affected by moisture, mould or algae. Is bamboo decking also prone to suffer from this and rot?
Can moisture, fungi or algae damage a bamboo deck?
Bamboo decking boards are sold in various shapes and forms. The question of whether a bamboo deck can have problems is similar to the question of whether a wooden deck can have problems. The answer for both materials is: yes, problems can occur but they can just as easily be prevented if the right decking board is chosen and installation and maintenance are carried out properly. That's why, in this blog, we discuss 3 common problems and explain how MOSO® Bamboo X-treme® prevents these problems. MOSO® gives a 25 year manufacturer's warranty on Bamboo X-treme® Decking boards for good reason.
Bamboo decking and moisture problems
One of the greatest enemies to bamboo and wood when used outdoor is moisture. Moisture can cause the material to react (swelling when absorbing moisture and shrinking when releasing moisture) and in humid conditions the risk of mould is more likely than in dry, well-ventilated conditions. That is why it is important to take ventilation into account when installing a bamboo deck. Keeping a terrace clean is also important, to ensure ventilation openings remain open.
To what extent moisture can cause problems with bamboo decking depends on how the bamboo is processed into a decking board. The degree of pressing under high pressure is an important characteristic here. Moisture simply cannot penetrate easily into a high-density material. Bamboo X-treme® has an extremely high density, approx. 1150 kg/m³, therefore, the material sinks in water. Due to the right manufacturing process, Bamboo X-treme® is highly resistant to moisture in comparison to wood and other bamboo decking.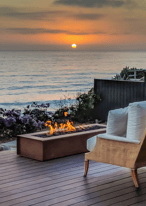 A good example: In California, Fraser Deck & Patio Coverings was asked to recommend a material for a deck at a holiday house near the humid coast. An additional requirement was that the soil under the terrace wasn't to be excavated. With very limited space under the decking, the well-known hardwoods were eliminated, leaving Bamboo X-treme® to be advised and installed. Read more about this stunning bamboo deck in Solana Beach.
Bamboo decking problems due to slipperiness
A frequently heard question, or problem, is that bamboo decking can become slippery. Slipperiness is not caused by the bamboo boards, but by algae, moisture and dirt on the boards. A clean, wet bamboo deck board is not slippery at all. However, if the terrace is wet and dirt remains on it, a dirty film layer will form on the boards that feels slippery. The extent to which this slipperiness occurs depends on the climatic conditions and the regularity of cleaning. Such a film layer eventually forms on every material, from wood to composite or tiles.
The grooved side of the decking board is sometimes seen as an anti-slip profile, but this is incorrect if the walking route is along the length of the boards. Moisture and dirt can accumulate in the grooves and algae is more difficult to clean from the grooves, which can make the bamboo decking board slippery. The smooth side of the plank provides more surface contact with the foot, making it more slip-resistant. Read this blog to understand what cleaning and maintenance can do against slipperiness.
Fungi and insects attack bamboo decking boards
Bamboo originally consists mainly of cellulose and hemicellulose, in other words, sugars. Fungi and insects are quite fond of sugar, so it is logical that unprocessed bamboo stems are quickly attacked. Bamboo products intended for indoor use, such as panels and flooring, are also rapidly attacked by fungi and insects in outdoor areas. To protect the material a finish with a lacquer can be chosen though this is not a durable solution. MOSO® does offer this durable solution with Bamboo X-treme®: a decking board made from thermally treated and high-pressure pressed bamboo fibre bundles. This production method is called Thermo-Density®.
Without this Thermo-Density® treatment, bamboo decking boards can be attacked by fungi and insects. The heat treatment removes the sugars from the bamboo material by compressing the material under very high pressure, in return, a high-density board is created in which fungi find difficult to adhere. Thanks to this unique treatment, MOSO® can guarantee that the boards will not rot away due to fungi.
Bamboo X-treme® Decking Toolkit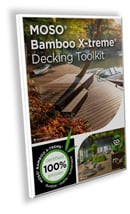 Are you considering bamboo decking for your project and looking for more information? Download our Decking Toolkit with all the inspiration and information about Bamboo X-treme®.