Bamboo cladding boards and slats are becoming more and more popular. However, not everyone is convinced that bamboo can be the perfect alternative to hardwood or composite. It's time to list the pros and cons of bamboo cladding, in comparison with timber cladding.
Advantages of bamboo timber cladding
Maintenance free
Long service life
High stability
Environmentally friendly
Natural look
Fire safe
No visible fastening
Price
Relatively heavy
Production in China
Only available in one colour
Relatively unknown
Use our comparison tool to compare bamboo with wood, composite or plastic boards.
The seven main advantages of bamboo deck boards
Maintenance free
Long lifespan
High stability
Environmentally friendly
Natural look
Fire safe
No visible fastening
Bamboo applications are becoming increasingly popular among architects, homeowners and project developers. Its sustainability, durability, as well as its natural appearance, are important advantages. Bamboo can be used indoors and outdoors for floors, walls and ceilings. Bamboo flooring, bamboo decking and bamboo furniture are just some of the possible applications. In addition, the demand for bamboo cladding for fences, facades and outdoor ceilings is growing. And that is not without reason.
1. Maintenance free
Bamboo X-treme® Cladding, the most widely used MOSO® outdoor collection is maintenance-free. The cladding boards or slats are delivered unfinished and an oil finish is possible, but not mandatory. When the original colour of thermally modified bamboo is desired, the boards only need to be installed. The colour fades relatively quickly (similar to hardwood) and eventually turns grey-brown. If a warmer, darker colour is desired, a coat of exterior oil can always be applied. As with other outdoor products, it is important to keep it clean and to remove any algae, for example, to ensure a long service life. The boards remain straight and may become slightly rough, which is rarely a problem for cladding applications.
2. Long lifespan bamboo cladding
A key advantage of bamboo cladding is its long lifespan in combination with its maintenance-free character. The lifespan of natural bamboo cladding boards is comparable to that of high quality wood, such as thermally modified wood or hardwood. The MOSO® Bamboo X-treme® range even comes with a guarantee period of 25 years.
3. High stability
Wood deforms under the influence of moisture. When wood becomes damp it expands and can crack, when dry it shrinks. The extent to which it reacts is different for each type of wood. Softwood cladding, such as pine and spruce, sometimes expand to up to 10%, while bamboo is known for its high stability. Only hardwood and thermally modified wood come close to bamboo on this matter. The high stability of bamboo cladding has, among other things, the advantage that the boards remain beautiful for a longer period of time and can be installed in clean and neat designs. In addition, the end-match system at the ends allows for the boards to be installed without a gap, which definitely enhances the appearance of a façade.
4. Environmentally friendly bamboo timber cladding boards
Bamboo grows faster than any other plant and can grow up to 20 metres high. It takes about 4 to 5 years before bamboo can be harvested. With hardwood, this is often only the case after 50 to 100 years, which means there is a high risk of deforestation. Bamboo is virtually inexhaustible, stores a lot of CO2 and is therefore an environmentally friendly alternative to materials such as composite and plastic, but also to tropical hardwood. Read more about environmentally friendly bamboo cladding boards.
5. Natural look and feel
Bamboo timber cladding provides a natural look to a house or building, similar to wood and in contrast to the use of, for example, plastic or composite. Wood and also bamboo provide a sense of peace and ambiance, they are timeless and create a warm appearance. Browse through countless inspiration projects to see what bamboo cladding looks like installed.
6. Fire resistant
The standards for the fire classification of facades have become very strict, with the aim of ensuring the highest level of safety, particularly in high-rise buildings. MOSO® Bamboo X-treme® Cladding reaches fire safety Class B-s1-d0 (EN 13501-1) and Class A (ASTM E84); this exceptional fire resistance is obtained without the impregnation of expensive and environmentally-damaging fire retardants. By using the Bamboo X-treme® Closed Cladding for your project, there is another advantage in terms of fire resistance: it offers a Class B-s1-d0 (EN 13501-1) certification for the entire installation. The Yoroi cladding boards, processed by Zwarthout and made of Bamboo X-treme®, also meet the requirements for fire class B-s1-d0 (EN 13501-1).
7. No visible fastening
Due to the high stability of bamboo timber cladding, only little space is needed between the boards or slats. In addition to this, bamboo cladding boards can be fitted with special fasteners so the fastening of the boards is not visible. The most beautiful and sleek designs are made with the Grad façade system. This is possible with special Bamboo X-treme® Grad cladding boards and beams. With a special groove on the back of the board, the cladding is clicked onto the installation system quick, tight and easily. For more information on bamboo cladding for the Grad system, click here.
The five main disadvantages of bamboo cladding
Price
Relatively heavy
Production in China
Only available in one colour
Relatively unknow
In addition to the advantages of bamboo cladding, there are also some disadvantages. For example, high-quality bamboo does not come cheap and the cladding boards are available in one single colour. Additionally, bamboo cladding boards are relatively heavy, something that must be taken into account when creating the substructure. Other objections mainly arise from ignorance about the product. After all, ignorance is a bliss. That is why the disadvantages of bamboo cladding deserve some extra explanation.
1. The price
Quality comes at a price. Bamboo is not cheap, certainly when compared to softwoods and cladding of lesser quality hardwoods. The same applies when compared to composite and synthetic decking. However, the price of bamboo cladding is about the same as cladding boards of good quality thermally modified wood. As a result, bamboo and thermowood are often considered to be exclusive. In addition, bamboo cladding boards last up to 15 years longer than, for example, softwoods.
2. Relatively heavy
Bamboo cladding boards are supplied in a length of 1.85 metres (available in longer lengths on request), while timber cladding is often as long as 5 to 6 metres. This is not a disadvantage when transporting the boards as the weight of a loose bamboo cladding board is around 5 to 6 kilograms. However, compared to wood and plastic, bamboo cladding boards are relatively heavy. For a fence or ground floor building, this usually does not cause any problems. However, when used at heights, this must be taken into account in the construction.
3. Production in China
Unfortunately, most of the bamboo for the production of bamboo cladding does not grow in Europe or North America, but in China. As a result, many are worried about CO2 emissions, the working conditions in the factories and quality of the product. As not all producers of bamboo decking boards have the same strict quality and environmental requirements, it is important to pay close attention to the labels and certifications.
MOSO® has conducted several LCA reports to evaluate the CO2 footprint of bamboo. This shows that MOSO® Bamboo X-treme® Cladding is CO2 neutral during the product lifespan. The amount of CO2 that bamboo absorbs during growth is more than the emission of CO2 due to production and transport.
4. Only available in one colour
Bamboo cladding is only available in one colour for the time being. The boards and slats will change colour after installation, due to UV radiation, from dark brown during installation to grey brown a few years later. Without maintenance, the aging will continue and with an outdoor oil the colour can be renewed. Browse through countless inspiration projects to see what bamboo cladding looks like installed.
5. Not known leaves much to be desired
A relatively unknown product like bamboo cladding means that, in practice, its application is sometimes difficult. While brick, wood and aluminium have been used for years with various certifications at hand for use in houses and building facades, Bamboo X-treme® has only been around since 2010. Nevertheless, MOSO®, in collaboration with universities, test institutes, installers and architects, has taken the most important steps to enable the use of bamboo cladding. Demonstrating the fire safety and durability, as well as showcasing what a bamboo façade looks like after a few years, have been very important. Meanwhile, Bamboo X-treme® is even used at extreme heights, as can be seen on the recently completed Grotius Towers in The Hague.
For more information on certification and specific characteristics of bamboo cladding, simply order the Bamboo X-treme® Cladding Booklet or contact our bamboo experts.
Compare timber cladding
Bamboo cladding has both advantages and disadvantages. In contrast to the natural look and the long life span of bamboo, the relatively high price and heavy weight are some of the disadvantages. If you strive for the very best, then bamboo cladding is definitely a good option. If, unfortunately, your budget is not as high, you will have to make concessions and perhaps look at composite, plastic or settle for a lower quality wood species.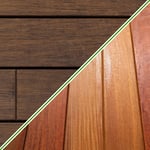 Would you like to compare bamboo boards with hardwood, composite or plastic? Make use our comparison tool to come to the right choice.