Decks and balconies are becoming more and more like a living and dining area and, on top of that, restaurants and hotels value an inviting, stylish outdoor space more than ever. Design requirements are also changing: in addition to durability, outdoor areas tend to put an emphasis on sociability. MOSO® developed an exceptionally beautiful solution for an outdoor area: Durable bamboo decking in a classic Chevron pattern. The idea behind it is as clever as it is obvious: a visual connection between the outdoor and indoor space.
A feast for the eyes and a truly unique ecological product
If you are looking for natural and durable bamboo decking with a low CO2 footprint, then MOSO® Bamboo X-treme® is the right solution. And for those who find the normal way of installing decking too ordinary, the new Chevron boards from this collection offer the chance to bring the popular living room ambience outside. The flat surface, which is factory finished with Woca oil or Sikkens Cetol, enhances this look and feel. In addition to this, the planks are durable and easy to care for: sun and drought, rain, snow and frost have little or no effect on the outdoor boards, as a complex Thermo-Density® production process protects them and makes them extremely robust.
Without compromise: ecological and durable bamboo deck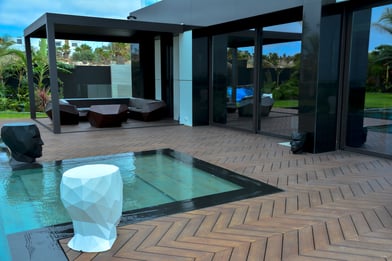 The high stability of Bamboo X-treme® material made the development of the new Chevron decking board possible. The board measures 137 mm wide, 20 mm thick and 566 mm long. Each board is beveled at 45° in the factory. In order to install the Chevron pattern perfectly, MOSO® provides an installation tool: precisely fitted corners ensuring a correct alignment of the boards during installation, which, thanks to the asymmetrical clip system, do not need to be visibly screwed down. "It is important to us that the installation is as simple and trouble-free as possible for the installer. This saves time, material and ultimately avoids warranty claims," says marketing manager José de Ruijter-Luken. "If the decking boards are processed correctly, they will withstand environmental influences for at least a quarter of a century."
25 year guarantee
Architects and designers value MOSO® Bamboo X-treme® for its impressive CO2 benefits and material properties, which meet the highest sustainability requirements. The high quality also makes the long 25-year warranty period possible. The official carbon footprint following ISO 14040 and 14044 for the decking boards confirms that they are CO2-neutral. Since its market launch in 2009, more than five million square metres of MOSO® Bamboo X-treme® Decking and Cladding have been installed in both large commercial projects and private gardens; that is more than 700 football pitches.
More inspiration - bamboo decking
Be inspired by our Bamboo X-treme® brochure in which you will find project references and key information on decking.