More and more people prefer natural materials as their flooring. Following this trend, home owners who choose bamboo flooring for their interior are also interested in the possibility to install the same natural flooring in all rooms, including the bathroom. Within a house, the bathroom flooring is the most difficult , seeing as bathrooms become very humid. Water penetration and a continuous high relative moisture content in the air should be avoided from any natural floor, as it can create swelling and shrinking and, in the long term, can damages your floor.
Installing bamboo flooring in bathrooms is possible, but there are a few things to consider:
quality of the bamboo flooring
choice of suitable bamboo flooring
installation method
care and use
Quality bamboo floor for bathrooms
As with all products and materials, there are different qualities on the market for bamboo flooring. In general, it is important to buy products from respected companies that are certified and guaranteed. Of course, these factors are essential to ensure that you are installing a good quality product and that you are protected through all stages of the purchase process, installation and use. MOSO® Bamboo Flooring is certified according to the most stringent European standards, respecting the highest parameters of:
Durability: MOSO® bamboo floors have a warranty of up to 30 years
Resistance: MOSO® bamboo floors have a high hardness of up to ≥ 9.5 kg/mm2 (Brinell hardness EN 1534)
Indoor emissions: All MOSO® bamboo floors comply with the official European class E1 (EN 7171) and some of them reach class E0, the strictest emission class.
Choosing the right bamboo flooring
The world of flooring and surfaces is vast and choosing the right product is becoming increasingly difficult. There are many different types of bamboo parquet on the market and, apart from the quality factor, the main differences are in the finish, colour, size and construction.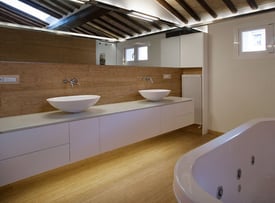 If you want to install bamboo flooring in your bathroom, we recommend a 100% bamboo product, unfinished (to be finished on site) and possibly made with a cross-layered construction to maximise the stability of the plank. This type of flooring is the most stable (less shrink and swell) and by finishing it on site you can seal it from any water penetrating the material.
Within the wide range of MOSO® bamboo parquet, there are a few products that can be used for this purpose, the most suitable are those from the collections:
Installation method
Among the most common installation methods for engineered floors, we can certainly highlight floating and glued installation. If you want to install bamboo flooring in bathrooms, an installation glued to the subfloor, including a seal in the groove of the planks, is highly recommended, as it ensures better stability (less shrink and swell). To prevent moisture from penetrating the material, which is not a given in the case of a bathroom, the bamboo floor in the bathroom must be finished securely and the wall borders must be sealed all around with a transparent adhesive silicone sealant.
Care and use of your bathroom floor
Bamboo is a natural material, like wood, and it is essential to take this into account when taking care of it. Bamboo flooring, especially in the bathroom, should be washed using well wrung out rags and suitable cleaning products that respect the bamboo finish and do not contain aggressive agents. In a bathroom it is important to pay attention to water and humidity to prevent water from stagnating on the bamboo floor. It is also important to ensure that the surface is well dried and, as an additional measure, it is advisable to use towelling mats in front of showers and baths without leaving them wet on the floor after use. Ventilating the room, especially after taking a shower, helps to remove excess moisture.
Would you like a bamboo floor in the bathroom?
By taking these small steps, it is certainly possible to install bamboo flooring in bathrooms and enjoy their beauty and warmth in all areas of the house.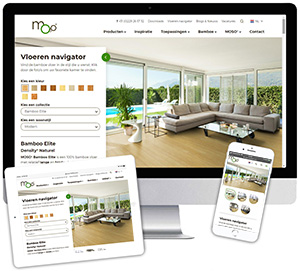 Would you like to know which bamboo flooring options are available and what kind of look to give your home? In the flooring navigator you can combine different bamboo floors with different styles.