One of the most frequently asked questions about bamboo is "is it suitable for outdoor use?" and we would like to give a complete answer. Of course, we answer this question with a confident "yes". With 6 million m² of Bamboo X-treme® Decking installed worldwide and countless positive experiences from installers and deck owners, there is a lot of proof behind the durability of bamboo decking. We would like to tell you why bamboo decking is even better than just "any good":
Bamboo X-treme® Decking is one of the most durable materials, with a longevity (durability class 1 - 25 years or more)

The high stability of Bamboo X-treme® Decking allows for, among others, an easy installation with fastener clips, which provides a particularly beautiful look.

Bamboo X-treme® ages naturally and takes on a beautiful shade, but can also be oiled if a deep dark brown colour is preferred. More about the colour change of bamboo decking can be found in this blog.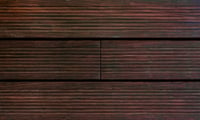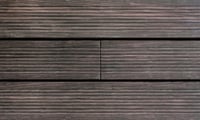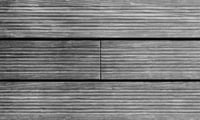 What is the lifespan of bamboo decking?
As we are dealing with a relatively new product, introduced in 2009, the real practical life span of bamboo decking is unknown. It is only known that over 6 million m² of Bamboo X-treme® have been installed worldwide, without any significant problems. Decking of 5 to 10 years old is still looking good, as the day it was installed, apart from appearance and colour which can vary over time and depend on the maintenance scheme. In order to be able to give an indication and warranty, MOSO® has extensively tested Bamboo X-treme®. Based on this, the expected life span has been determined:
The service life of natural materials, such as wood and bamboo, is classified according to the European standard EN 350. Bamboo X-treme® achieves durability class 1.
MOSO® Bamboo X-treme® Decking boards have an expected life span of 25 years or more
The quality and lifespan of the bamboo decking planks is influenced during production

Maintenance extends the lifespan of bamboo decking
Learn more about the expected lifespan of bamboo decking.
Why is stability important to determine if bamboo is suitable for decking?
One of the main advantages of bamboo decking is its stability. As the boards are made of thermally modified bamboo strips that are compressed under very high pressure, the material is extremely stable. There is hardly any shrinkage, swelling or deformation. This provides a number of advantages:
The bamboo decking retains its beautiful appearance for years and the deck will remain flat.

Bamboo decking boards can be installed with clips. Wooden boards are usually screwed down because the clips are under tension when the wood undergoes warping.

The bamboo decking boards have an end-matched system. Due to this, the boards can be laid lengthwise without any gaps. This results in an aesthetically appealing appearance and it is convenient during installation.
Read more about the stable Bamboo X-treme® boards in a complicated deck which required the bamboo decking.
Does a bamboo deck look any good after a few years?
A deck, whether in a garden or at a hotel or restaurant, is usually constructed for many years. It is therefore important that the decking still looks good after several years. Experience with Bamboo X-treme® shows that bamboo decking looks good even after several years. The following is taken into consideration:
The ageing of bamboo decking boards is natural. There is no colour fading like with PVC, but the boards acquire a beautiful patina. Ageing only affects the surface of the decking and does not affect the quality of the material.

Some are not fond of a weathered deck look and want to keep the warm dark brown colour for years. By applying a layer of decking oil to the surface of the deck annually, or more often, the dark colour can be retained.
Discover a bamboo deck that was installed years ago and still looks great.
Want to know more?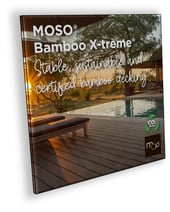 Looking for more information or inspiration for a bamboo deck? Check out our Bamboo decking inspiration page and download the inspiration brochure.