Do you want bamboo decking boards for your project? Discover 5 tips to help with choosing the right bamboo decking supplier for you:
Choose a supplier specialised in the type of project you are working on (small or large, commercial or private)
Choose a supplier with knowledge of bamboo decking boards and, above all, knowledge of the installation and supplies involved.
Choose a supplier with good references
Ensure the supplier offers the original Bamboo X-treme® product
Be well prepared before you go to a supplier
MOSO® cooperates with various distribution partners and installation companies and is happy to help you choose the right supplier. Your supplier will not only help you with the delivery of the bamboo decking, but will also help you make the right choices for the installation, the construction of the sub-frame and provide advice on how to maintain a long life span.
Suppliers for commercial decking applications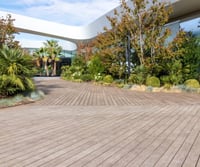 MOSO® supplies bamboo decking for projects that vary from a small terrace in a backyard to a complete beach entrance to a terrace for a well-known hotel chain. The supplier of your project is preferably specialised in projects such as the one you are working on. For commercial applications, we always advise contacting our MOSO® Bamboo experts for extra support and advice when choosing the right decking board and installation. With experience in several large reference projects in which bamboo decking boards have been applied, MOSO® can recommend various installers.
Suppliers for decking in your garden
We will be happy to direct you to the right supplier of your bamboo decking, also for a terrace in your backyard. In cooperation with distributors, MOSO® supplies bamboo decking boards to various wood dealers and landscapers. The better landscaper can provide you with excellent advice about installing a bamboo terrace in your garden. For a quick overview of distributors and dealers, you can use the dealer map with points of sale, but please do not hesitate to contact us directly. If you are looking to install the bamboo terrace yourself, you can also find information about the installation on our website, please read our technical literature.
Bamboo decking offer
MOSO® has been supplying bamboo decking since 2009. No supplier or brand has as much experience with this innovative product, made from rapidly renewable bamboo in a unique production process. Bamboo is often compared to hardwood because it has similar technical properties and the appearance of a good tropical hardwood. Unlike hardwood, a bamboo decking board is an engineered product. The board is not cut from a felled tree but harvested bamboo stems are processed into strips, which are compressed under high pressure after thermal treatment. This involves many different production steps. The quality of the production determines the final lifespan of your terrace. The supply of bamboo decking boards is increasing and therefore the selection of the right supplier is an important step.
Let a bamboo specialist guide you and create a terrace that will last for years.