While the world starts to recover from the Covid-19 pandemic, nature-lovers start dreaming again about a stay in one of Africa's famous luxury lodges. In the years before the outbreak the eco-tourism sector reached double-digit growth in visitor numbers and revenues. With a growing number of eco-destinations, lodges need to offer additional assets to attract tourists to visit their property. A beautiful deck, preferably with a wide view on the open wilderness, is an asset valued by many. But this deck should be beautiful for years and create additional value for the property. More than five years after the first introduction of Bamboo X-treme® decking in South Africa, the material has proven itself to be durable and stable in the toughest situations. Additionally, the environmental benefits help guests to understand that lodges take their eco-vision seriously.
Worldwide growing interest in eco-tourism
There has been a significant worldwide growth in eco-tourism over the past decade, and in the luxury wilderness hospitality sector in particular. Southern Africa has certainly experienced and benefitted from this trend, and this sector has seen sustained double-digit annual growth over the past 5 or more years.
This growth has led to the creation and construction of a large number of new luxury nature-based and "eco" hotels and lodges, and owners are now looking for ways to differentiate their properties to attract the required guests. Of course the Covid-19 pandemic has really highlighted the imperative of such differentiation, in the need to gain quality occupancy from a much reduced pool of potential guests.
The importance of sustainability and environmental measures
The people who visit these luxury wilderness lodges are typically well educated, have a love of nature and the environment, and are well aware of the interlinked and globally complex issues around conservation, environmental protection and human activities. For such guests it is not sufficient for a lodge to be situated in a beautiful and pristine natural area, but they are increasingly expecting that the establishments must be developed, constructed and operated in more sustainable and environmentally friendly ways. One such international guest commented that "I come to these places to be in touch with nature, and I don't want to go to a lodge that is making the global environment and climate change worse by using tons of chemicals, plastic and rain-forest wood."
Why bamboo fits sustainable construction
Moso International is the world leader in the supply of high quality engineered bamboo products. The company is founded on the principles of sustainability, excellence and innovation. Bamboo is one of the world's fastest growing plants, and bamboo plantations generate a completely sustainable harvest every year, with no deforestation and no use of fertilisers, pesticides etc. The very rapid growth rate of bamboo means that bamboo forests absorb an enormous amount of CO2. In fact a bamboo forest absorbs much more CO2 per hectare per annum than even the most dense tropical rainforests. Independent academic studies undertaken in Europe have shown that most MOSO® bamboo products are CO2 neutral when installed in projects in Europe, even taking into account the transport of the products from China to Europe. Add to this the fact that these bamboo products are harder, stronger and more durable than many commonly used hardwood timbers make them a viable and responsible alternative to traditional timber products which are so widely used.
Bamboo X-treme® decking for Imagine Africa Luxury Tented Camp
The very positive environmental credentials of this rapidly renewable resource - sustainability and CO2 neutrality – combined with the stability, strength and durability of the MOSO® bamboo decking has attracted the attention of a growing number of owners and operators of luxury safari and wilderness lodges. One of the latest lodges to install MOSO® products is Imagine Africa Luxury Tented Camp, an intimate, family-owned safari lodge in Balule Private Nature Reserve, Mpumalanga, South Africa. MOSO® proudly contributed to the camp with the supply of sustainable and durable Bamboo X-treme® decking.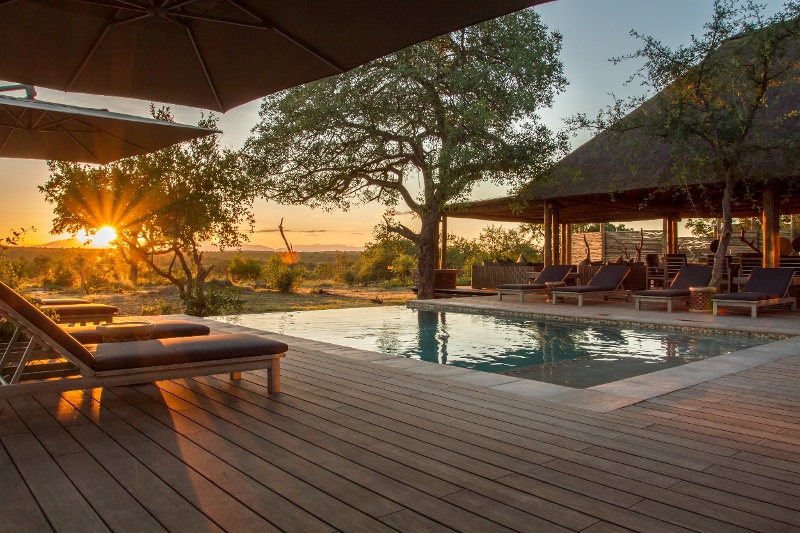 The luxury tented camp boasts six fully furnished spacious accommodation units. Each tent boasts a spacious private deck and an unrestricted view of the northern Drakensberg mountains, allowing you to relax and watch the wildlife follow the sunset. The tents are surrounded by indigenous flora that add to the beauty and ecological significance of the surrounding landscape.
Both the private decks and the boardwalks crossing the Tented Camp, and the communal areas like the pool deck and restaurant, are made of Bamboo X-treme® decking. Around 900 m² of decking boards are installed with perfection and contribute to the luxury atmosphere in and around the tents.
Richard van Schalkwijk, owner of Imagine Africa, said: "Our bamboo decking is superb and definitely blends in well with the natural surrounds of the African bushveld. We invested in approximately 9 tonnes of bamboo decking, and had it installed at Imagine Africa Luxury Tented camp which is situated in the Balule Nature Reserve which forms part of the Greater Kruger National Park. This area experiences intense heat in the summer, sometimes exceeding 42 degrees Celsius and in winter down to about 8 degrees Celsius. The bamboo withstood both extremes at the lodge and showed no signs of any defect up to this day."
Other luxury lodges where MOSO® exterior decking and indoor flooring is installed include:
Photography Imagina Africa: Tim Baynham - Wildlife Safety Solutions