When looking at recommending or investing in a new deck, you need to understand the different decking types to know exactly what you can expect from your new deck. Every type of decking is different and has its own characteristics, and bamboo is no exception. For your next project, we have lined up the most important differences you need to be aware of before you invest in a new deck and why:
How durable is a material?
The ultimate goal is to be able to create a project in which the deck can be admired for many years to come. Although the warranty can provide an insight into this, the durability of the material must also be taken into account. This can be done in different ways:
The most common way of comparing the durability of natural materials is the use of the Durability Class according to European Norm EN 350 and Use Class according to EN 335. With several tests the material gets a Durability Class ranging from 1 (very durable) to 5 (not durable) combined with a Use Class ranging from 1 (interior) to 5 (in contact with salt water). This classification is not always available for all materials, such as ceramic tiles or aluminium decking.
In the wood industry the durability can be indicated by comparing the density of the material itself. More dense materials do get damaged less easily and can withstand a higher amount of people walking over a deck.
For comparisons sake, see the following different of use class vs density of material here:
| | | | | |
| --- | --- | --- | --- | --- |
| | Durability Class (EN 350) | Use Class (EN 335) | Density | Warranty |
| Bamboo X-treme® | 1 | 4 | 1150 kg/m³ | 25 year |
| Tropical hardwood (ipe) | 1 | 3-4 | 1050 kg/m³ | Usually 1 - 20 year |
| Softwood (Pine) | 4 | 2-4 | 400-600 kg/m³ | Usually 1 year |
| Ceramic tiles | | N/A | 2700-3100 kg/m³ | N/A |
| Composites (WPC's) | 1-3 | N/A | 1000-1300 kg/m³ | 10 - 25 year, plastic never decomposes but technical function does |
| Aluminium | N/A, aluminium is extremely durable | N/A | 2700-2900 kg/m³ | > 25 year |
For a complete side-by-side overview, you can review our decking material comparison.
How should a deck be maintained?
When planning a project, it is not only important that it stands out in terms of appearance, but it is also important that a deck is well maintained in order to be able to enjoy its beauty for as long as possible. For some, a high maintenance deck is a no-go and this is what can lead to the decision to use alternative decking types, such as WPC or aluminium. However, it is important to understand that even these decks, though advertised as "maintenance free" do need extensive cleaning and might need maintenance and repair.
The extent to which a deck is maintained is also related to its durability, as well as the desired look. Natural decks, such as bamboo and wood, become a natural grey as time progresses in which many know and love. Though this also needs to be cleaned yearly, as with other decks. We recommend yearly maintenance of bamboo decking by cleaning and, when the beautiful brown colour is desired, re-oiling is also recommended.
What are the effects on the environment?
An aspect in which many are discovering to be of more importance is the sustainability of a material, this is also essential when looking at decking types. In essence, the use of natural materials, if sustainably harvested, is better than the use of materials of synthetic origin. Where some decking materials, such as WPC, claim to be sustainable, the reality is that they are energy intensive during production and they are impossible to recycle due to the "hybrid" wood-plastic combination. When looking at natural products for your decking there are many factors that come into play but generally, natural materials are definitely a better choice for projects in which a more sustainable material is desired. Not only because of the resource (in bamboos case the fast growing speed means the bamboo resource re grows 5 times during the warranty period) but the green building certifications that recognise these aspects are also attractive. When looking at MOSO® Bamboo X-treme®, or other MOSO® Bamboo Products for that matter, there are several green building certificates and credits that can be achieved. More about sustainability of bamboo here.
What does the manufacturer guarantee?
An important part of your decking is the warranty, this gives you an insight as to what you can expect and help you understand the experience of the manufacturer. More experience and success leads to a longer warranty, as well as a better customer service. This is also an important part of the warranty, understanding to what extent the manufacturer will help you with any issues that may occur and which manufacturer will not; this also provides an insight into the product quality and experience. Not only are the MOSO Bamboo Experts available at your beck and call, they will advise you in terms of the installation, helping you with the do's and the don'ts when it comes to installing a deck. More than 20 years' experience and an excellent R&D team provides MOSO® with the know-how when it comes to MOSO® Bamboo X-treme® and what you can do with it.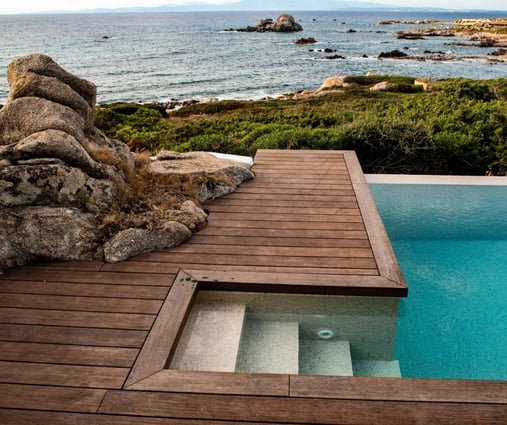 There are many differences in the materials available when looking at decking types for a new project. When the ultimate decking material is desired, we believe that MOSO® Bamboo X-treme® is the perfect choice due to its performance, durability and sustainability aspects. Once the new decking has been installed, it can be enjoyed for many years to come. For a complete overview, you can review our decking material comparison.