There is a wide choice of decking boards on the market: the most appreciated and recognised for their natural beauty, durability and resistance are often wooden decks, especially tropical wood decking. MOSO® Bamboo X-treme® Decking is an alternative to wood, as it has similar or even superior characteristics such as:
Bamboo decking boards that naturally looks like wood
A MOSO® Bamboo X-treme® Deck looks like a wooden deck, with a warm and natural appearance. The new bamboo deck board has a dark brown colour. Like wood, the colour will change over time and, depending on the use and location, will become grey, revealing the bamboo grain. Once aged, the colour of bamboo decking is similar to that of Teak, a tropical wood. Weathering of a bamboo board is solely aesthetic, it does not change the technical characteristics of the material.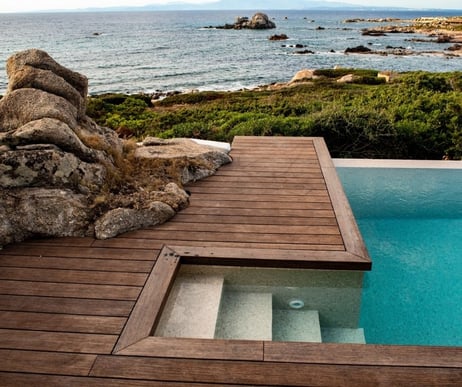 As with wooden decking, periodic maintenance is recommended to maintain the brown colour.

MOSO® Bamboo X-treme® Decking is available in a wide range of surfaces and dimensions, as with wooden decking. The surfaces of the board are smooth, grooved, curved or brushed to meet different requirements, depending on the application. The fixed length bamboo boards are also available in different widths: 137, 155 or 178 mm wide, and thickness: 20 or 30 mm. This allows for a wide choice in terms of design, as the different surfaces and dimensions can be combined.
A bamboo terrace with a similar or even superior durability to wood
Wood decking is not only applied outdoors because of its appearance, but also because it can be very durable. There are certifications to validate the durability of decking: Biological Durability Class and Use Class. MOSO® Bamboo X-treme® Decking boards are subject to the same certifications as wooden decking. The Bamboo X-treme® Decking achieves high results according to both norms:

Biological durability: Class 1 (EN 350 / CEN/TS 15083-2), simulated graveyard test Class 1 (EN 350 / CEN/TS 15083-1)

Class of use: Class 4 (EN 335)
Bamboo X-treme® has the same use class as tropical wood decks such as Bangkirai, Massaranduba, Cumaru and Ipe and usually a better biological durability classification.

MOSO® Bamboo X-treme® Decking has a high durability due to the production method. It is made from bamboo strips, which are heat-treated (200°C) and compressed into boards with a very high density. This process removes the sugars naturally present in the bamboo stem and prevents organisms from feeding on the decking material.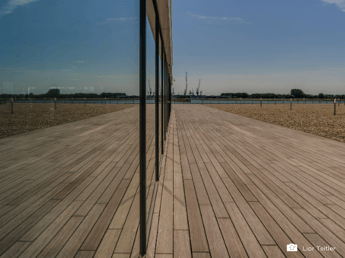 MOSO® Bamboo X-treme® Decking comes with a 25 years warranty. Discover our project reference of Jumbo Head Office where the Bamboo X-treme® Decking has been installed in 2014 and still looking great.


Bamboo decking as hard as stone
MOSO® Bamboo X-treme® Decking is very hard, with a density of +/- 1,150 kg/m3, higher than that of many tropical woods such as Ipe +/- 1,050 kg/m3, Cumaru +/- 1,050 kg/m3, or Bangkirai +/- 930 kg/m3. This high density allows it to reach the Brinell hardness of more than 9.5 kg/mm² (EN 1534), which is close to the result of an ultra-hard material, which is why it can be said to be as hard as stone. Its high density makes MOSO® Bamboo X-treme® suitable for public area applications, capable of withstanding extremely high numbers of users.
A bamboo decking with a similar installation method to wood
Just like a wooden deck, Bamboo X-treme® Decking is installed on a joist structure. MOSO® recommends joists with a Use Class 4 classification like the deck board to ensure the durability of the entire installation. Bamboo X-treme® joists are the preferred material and fasteners will be required to complete the installation.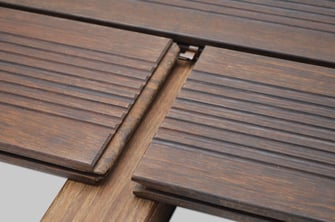 Bamboo X-treme® Decking boards have a groove on each side to facilitate clip installation. Due to a dependence on stability for this, it is not always possible with wooden decking. With bamboo decking it is also possible to carry out a screwed down installation if desired. View the installation of Bamboo X-treme®.
Unlike wooden decks, bamboo decking boards come from a stem and not a tree trunk. During production the bamboo stems are cut to fit into the compression molds. Bamboo decking is an engineered product and therefore the boards are all the same length. This is an advantage during transport, storage and installation, compared to long length wooden boards in different dimensions that are impossible to be installed by just one person. Do you want to know more about the MOSO® Bamboo X-treme® Decking? Download our detailed Bamboo X-treme® Brochure.