Do you want or have underfloor heating and are you looking for a beautiful floor? No problem!
Many parquet and wood species are compatible with the most common types of underfloor heating and this certainly applies for MOSO® Bamboo Flooring. Wood and bamboo are natural products, one of the many reasons natural parquet floors are so popular: no two planks are the same! So every floor is unique!
Can bamboo flooring be installed on underfloor heating?
A floor that is properly laid and maintained lasts a lifetime. Even on underfloor heating. However, it is very important to take some important points into account:
Make sure that the humidity in the house is always between 45 and 65%.

Choose a suitable bamboo flooring range (thickness, width, construction) that is compatible with underfloor heating. The rule is: the thinner, the more cost-effective.

The bamboo floor is fully glued down.

The underfloor heating has a maximum water temperature of 45 degrees (the top of the parquet may reach a maximum of 26 degrees) and a minimum water temperature of 18 degrees for floor cooling.

Leave the underfloor heating on continuously at 20-21 degrees. This is not only better for the floor but is also more economical and comfortable.

Take the required heating-up protocol into account.


Ensure that the indoor climate is as favourable as possible: a temperature between 18-21°C and humidity of 40-65% (use a hygrometer + thermometer to check this).
Which bamboo floors are suitable for underfloor heating?
When choosing a bamboo floor for underfloor heating, it is important to look at the thickness of the flooring. A thinner floor is more cost effective and therefore a better choice. The thinnest bamboo parquet floors are Bamboo Supreme (2-ply flooring) and Bamboo Industriale (individual solid bamboo strips glued to the floor).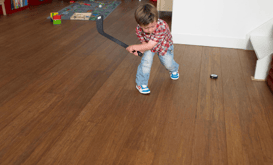 If you prefer a floor that consists of large and wide planks, then Bamboo Elite Premium or Bamboo Elite are suitable. Bamboo Elite Premium can be installed floating on underfloor heating due to the high density and stability of the material. Please consult a bamboo flooring or parquet specialist for personal advice, tailored to your living situation.
Which floor is right for you?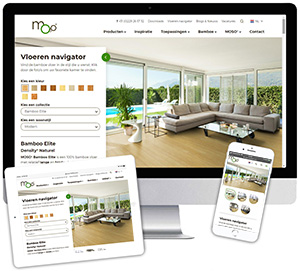 Are you considering a bamboo floor for your home? Would you like to know which bamboo flooring options are available and what kind of look to give your home? In the flooring navigator you can combine different bamboo floors with different styles.