Are you considering bamboo decking boards for your project, including a terrace? Engineered bamboo has been used for outdoor applications for more than 10 years, which gives you an insight into the behaviour of this species. Unlike wood, bamboo does not come from a tree but from a plant with one of the fastest growth rates in the world. Read how different professionals review bamboo decking and more facts that you should know about bamboo.
Bamboo decking review based on the looks and maintenance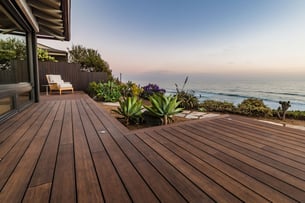 "You can maintain it and keep the rich brown color or you can let it fade on its own and it will still look amazing." . - Dave Fraser, owner Fraser Decks & Patio Covers, installed the Solana Beach deck
"On the outdoor, I have used MOSO® Bamboo X-treme® Decking, which guarantees me with, apart from having that degree of comfort and beauty, an elegant weathered aspect." - Cesar Caicoya – Architect, Hotel Marques de Riscal designer

"Bamboo X-treme® can be installed within 4" off the ground and it's beautiful warm brown colour was exactly what they were looking for." - Jeff Schork, Showcase Marketing representing MOSO® in Ohio
As mentioned in the bamboo decking review by Dave Fraser, Bamboo X-treme® Decking is characterised by a brown colour when installed. This warm colour comes from the thermo-treatment process of the bamboo strips. Over time, the decking appearance will change and take on the beautiful natural bamboo grain but not before becoming a caramel and then grey colour. The original brown colour can be preserved by periodic maintenance with a deck finish.
Bamboo X-treme® reviewed on sustainable aspects
"High density" bamboo from MOSO® is, in my opinion, one of the most sustainable bio-based products available today. Because of its unique properties, it remains beautiful in the long term, provided it is well detailed."
Bart Spee, SPEE architects, SPEEHUIS designer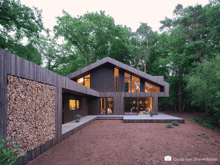 "The choice of Bamboo in the Hotel Marqués de Riscal project is mainly due to the contribution to the much needed process of avoiding CO2 emissions in the atmosphere, already so damaged.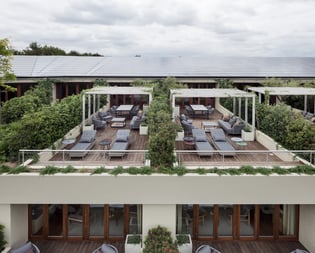 On the one hand the bamboo has an exponential growth, when you cut the bamboo stem, it activates the rizhome and the stems grow in larger quantities, unlike classic woods like Oak or Beech. In addition, working with a Dutch company like MOSO offers an enormous guarantee of quality to me in an emblematic project like this."
Cesar Caicoya – Architect, Hotel Marques de Riscal designer


The use of sustainable, healthy and environmentally friendly materials in the world of architecture is becoming increasingly important. As reviewed above by Bart Spee from SPEE architects, Bamboo X-treme
®
is one of the most ecological sustainable building materials. Bart Spee designed a combination of an office and a private residence, with Bamboo X-treme
®
cladding. The project is one of the most sustainable private residences in the country and bamboo fits into the design X-tremely well.
Moso bamboo is a fast-growing plant, the bamboo stem becomes mature after only 4-5 years and the rhizomes reproduce very quickly.
"Bamboo holds the Guinness World Record as the fastest growing plant".
Guinness Book of World Records
Besides the bamboo decking reviews about sustainability, numerous tools such as sustainability certifications (BREEAM, LEED, DGNB, HQE) or carbon storage calculations, allow projects to evaluate the impact of the bamboo deck. The MOSO® Bamboo X-treme® decking has a unique and independent study of the product's Life Cycle Analysis, resulting in a negative impact (CO2 neutral).
Stability of bamboo decking reviewed
Stability is a fundamental aspect for any deck and Bamboo X-treme® boards are the ideal solution when stability has to meet high requirements. MOSO® Bamboo X-treme® boards are heat-treated and with the High Density process a unique hardness is created. The manufacturing process increases the stability of the decking allowing installation without expansion gaps at the ends of the boards. Many professionals that have worked with MOSO® Bamboo X-treme® Decking are enthusiastic about the stability of the material. This stability has been proven over time, that's why we invite you to discover project references that show the high stability of MOSO® Bamboo X-treme® Decking:
Jumbo Head Office – 5 years after installation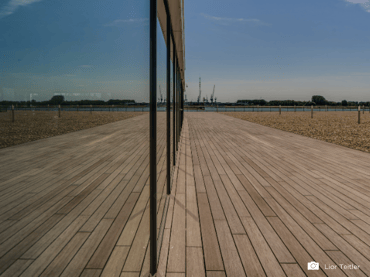 Riberach Hotel Belesta – 8 years after installation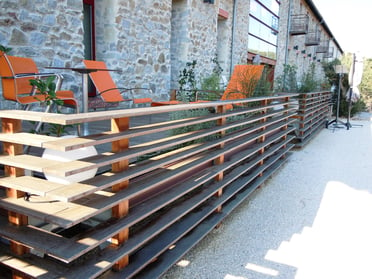 Assessment of the durability of bamboo decking in the most extreme conditions
A deck board has to face very different climates depending on the areas in which it is applied. Bamboo X-treme® Decking, since its launch, has been installed in extreme conditions such as:
Around swimming pools
Near coastlines
Desert climate
Under the snow
Heavy traffic
Reviews about the durability of MOSO® Bamboo decks:

"Maintenance costs may increase disproportionately with the use of poor materials. We have installed 2500 m² of decking, a not inconsiderable amount. By choosing bamboo instead of tropical wood or another classic material, we can contribute to protecting natural resources."
Review by Markus Theune, Director of Theune Spa Management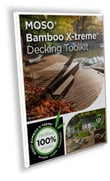 Are you curious or convinced after reading the reviews of bamboo decking boards? Download the Bamboo X-treme® ToolKit with more information and inspiration.