For a rooftop terrace, both in a hotel or restaurant and in a residential building, bamboo decking is very suitable. From event buildings in Paris to the Hilton Hotel in Columbia, rooftop terraces with bamboo decking can be found all over the world. You probably know the main characteristics of a deck on a rooftop terrace, but we would like to mention a few things to consider when choosing the material:
Durability: a rooftop terrace should last for years and the material should therefore look great for years to come, as Bamboo X-treme® Decking boards do.
Ecological sustainability: a rooftop terrace made from an environmentally friendly material is preferred everywhere in the world and bamboo is one of the most ecological building materials on the market.
Stability of the material determines the ease of installation and ensures that the deck will look sleek for years to come.
Weight of the material: bear in mind that Bamboo X-treme® Decking boards weigh about 23 kg per m², this is about average compared to other materials.
We are more than happy to provide some ideas and inspiration for your rooftop terrace.
Rooftop terraces with bamboo decking
1. Apartment complex with bamboo rooftop terrace in Amsterdam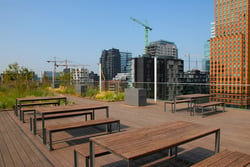 Residents at De Boel can use the rooftop terrace as an extra living space, where there is plenty of room for plants. A collaboration between Hans van Heeswijk architects and De Dakdokters, the terrace was finished with bamboo decking. Bamboo X-treme® was also used here for the furniture, ensuring that the rooftop terrace is a unified area. Click here for more photos of this apartment complex with a bamboo rooftop terrace.
2. Residential building with a bamboo rooftop terrace in Vienna, Austria

The Hagmüller Architects team's design of a residential building in Vienna called for a material that meets the highest requirements in terms of strength, fire safety and ecology. Bamboo X-treme® not only meets these requirements but also offers the possibility to design decks, columns and planters with the same material. See more of this rooftop.
3. A rooftop terrace overlooking Lake Como in Italy
Overlooking Lago Como, among the hills and picturesque villages, is where the Hilton Hotel Lake Como is located. The hotel combines local influences with exceptional service to guarantee a wonderful stay. The rooftop terrace plays an important role in this: a beautiful rooftop bar where cocktails and light snacks are served during the day, elegant dinners are enjoyed in the evening, live DJs provide a pleasant atmosphere and the swimming pool cools you down.
4. Rooftop terrace used as an extension of an event venue in Germany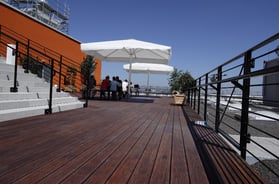 If a rooftop terrace is also used as an extension of an event venue, then all kinds of specific requirements are taken into account in the design. Fire safety, load bearing capacity and sustainability play an important role. In Munich, Steidle Architekten selected Bamboo X-treme® Decking, which was used to finish the roof terrace at Werk 3.
5. Bamboo decking on Necker Imagine Foundation Hospital in Paris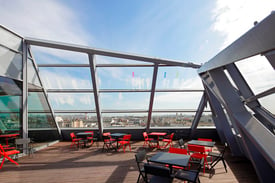 The oldest children's hospital in the world was founded in 1778 and is located in the middle of Paris. Even in the heart of the city, hospital visitors need fresh air. Bamboo X-treme® Decking was chosen when renovating the roof terraces. The natural look of the boards creates a nice contrast with the steel railings and beams.
6. Rooftop terrace at the Hilton Hotel in Bogota, Colombia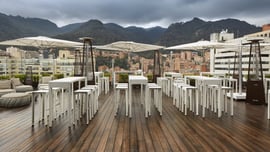 On top of the Hilton Hotel in bustling Bogotá, Colombia's capital and largest city, is the Sky15 roof terrace with 560 m² of Bamboo X-treme® Decking. Overlooking a stunning city and mountain panorama, hotel guests can enjoy numerous events. Click here to see more of this hotel rooftop terrace with bamboo decking.
7. Bamboo decking at the Paris convention center

Paris Expo Porte de Versailles is a bustling venue in Paris, where countless people stay in the building during conventions. For fresh air, they take advantage of the rooftop terrace on Hall 7, which offers a beautiful view of the city. The deck and benches on the roof terrace are made of Bamboo X-treme® Decking and the natural look enhances the outdoor feeling.

8. Rooftop terrace with bamboo decking at a residential building in Philadelphia, USA
In the inner cities of the United States, high-rise buildings are the norm and outdoor space for residents is limited to public parks. A rooftop terrace was created for the tenants of this residential building to enjoy quiet time outdoors. See more photos of this rooftop terrace with bamboo decking and fencing.
More about rooftop terraces with bamboo decking
Looking for more information or inspiration for a rooftop terrace? Check out our Bamboo Decking inspiration page or download the brochure with inspiration and information about Bamboo X-treme®.