A trend throughout the timber cladding world is vertical installation of boards or even slats to create a unique, modern façade. As well as popular timbers that can be used to create this desired look, Bamboo X-treme® is a proven and easy to work with material that is gaining traction throughout the market. From ventilated closed systems with high fire safety ratings, to boards that vary in width to create a playful look, to small slats that are perfectly installed next to one another, any look is possible with bamboo. Dive into the possibilities with MOSO® Bamboo X-treme® Cladding in this blog:
A desire for sustainability as well as durability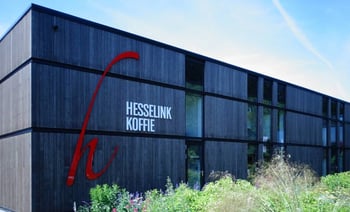 This unique façade was created with bamboo timber cladding that is available in different widths, which enables the designer to create something that really stands out. This Dutch coffee manufacture, Hesselink, together with their architect Het Fundament, choose to use sustainable materials in order to meet their sustainability goals and Bamboo X-treme® was not only an ecological but a study choice for a long lasting façade.
Timber bamboo cladding adds warmth to industrial estate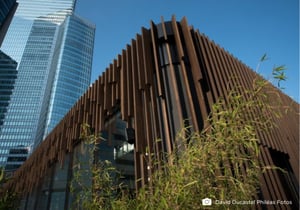 Among a steel and concrete industrial estate, bamboo timber cladding in the form of beams of different lengths and shapes were used to create this incredibly enticing design in which every angle has a totally different look. Not only does the look of Oxygen interrupt that industrial feel by adding a touch of warmth, but it performs as well as the surrounding, non-renewable, materials. A few years after installation, MOSO® went back to the project to see its performance and, as expected, the beams were just as straight as the day of installation and the beautiful weathered colour had starting to take form.
A timber house nestled among the surrounding forest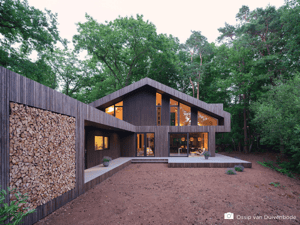 Not only timber built but with vertical timber cladding in the form of Bamboo X-treme®, this is one of the most innovative timber built houses in the Netherlands of its time. SPEEHUIS, office and home of SPEE architects, has been built with the utmost respect for nature and attention to biobased and circular materials. The Bamboo X-treme® slats have all been perfectly installed on the Grad system to ensure the perfect spacing, as well as paying attention to a circular design. The house blends into the surroundings beautiful and not only the façade but also the roof is completed with Bamboo X-treme® timber cladding slats.
Extreme luxury that meets stringent fire safety requirements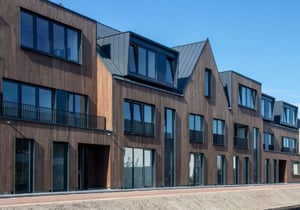 In order to reach the high fire safety requirements, Closed Bamboo X-treme® Cladding was chosen to create this remarkable look for a residential area close to Amsterdam, De Krijgsman. Though it may look like a thermo timber cladding a first sight, this beautiful brown coloured façade is the fast growing, rapidly renewable Moso bamboo! The thermal treatment of the Bamboo X-treme®, combined with the extreme density (1150 kg/m3) makes for a product that, including the closed system installation, has been tested and certified as B class, meeting stringent requirements.
Vertical timber cladding used as the dressing of a cake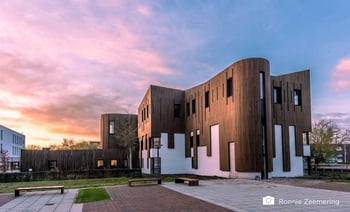 Another project in which a durable product was needed to create the desired design is the Notiz Hotel NHL Stenden. The aim was to replicate the chocolate "dripping" from a cake and in order to create this look a sturdy material was needed. A very playful look has been created here with the help of Bamboo X-treme®, due to the availability of different width boards, which also allows for easy installation on that curved design.
Nature inclusive façade incorporating vertical bamboo timber cladding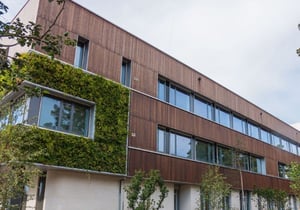 Another project in which the high fire safety requirement played a role in the choice for this material, as well as a desire to take steps in a sustainable direction during the restoration of Waterschap. The combination of Bamboo X-treme® and the greenery that has been used on the façade is very distinctive and most certainly ensures that the projects stands out, as well as aiding the biodiversity and acting as a natural cooler for the for the city that is warming up. Bamboo X-treme® is most certainly fit for more nature inclusive designs with its extremely high stability meaning temperature and moisture fluctuations have relatively little effect on the boards.
A natural backdrop with vertical timber cladding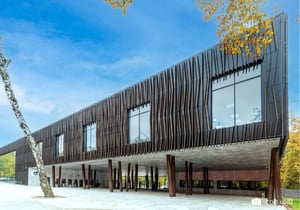 Here is a very different use of Bamboo X-treme® to create this unique façade. This is not your everyday environment, as these beams have been installed at Łódź Orientarium Zoo in Poland. To create a natural backdrop for the animals, a natural material was desired for the cladding. In this case, due to the stability and sustainability properties, Bamboo X-treme® beams were chosen to create this vertical timber cladding design, which is most certainly eye catching with the playful angles and installation pattern.
Bamboo fencing that encloses a luxurious garden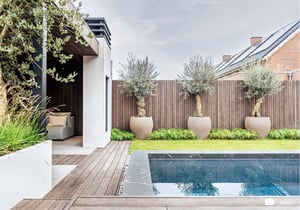 Another use of vertical timber cladding is the use of Bamboo X-treme® slats to create fencing and complete a project in which other bamboo products have been used. Encompassing this Bali inspired garden is modern and sleek fencing that makes use of Bamboo X-treme® slats. Complete with the greenery and plants, the Bamboo X-treme® colour blends in fabulously and creates a truly luxurious look.
Are you ready to create unique vertical timber cladding with Bamboo X-treme®?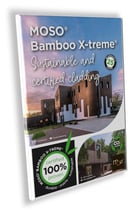 From cake dripping to closed systems in which high fire requirements must be met, anything is possible with bamboo and the large variety of products mean that practically any design can be put onto paper. Order your Bamboo X-treme® Cladding Booklet here to discover even more possibilities. If you are an architect or installer, get in touch with us to receive samples!