With the most extensive range of bamboo floors and dealers all over the world, MOSO® has supplied bamboo floors in countless homes. In this blog we would like to show you some of the homes in which bamboo flooring plays a key role in the interior. The right bamboo floor depends on the owner. Do you want long and wide planks or an interesting pattern? Will you install the floor on underfloor heating or do you prefer a floating installation with a click-system? The possibilities with bamboo are endless!
Here is our selection of the most beautiful bamboo floors:
Bamboo Supreme in a drive-in flat
Bamboo floor in a bright flat
Extremely durable bamboo floor in a holiday house
Bamboo floor in an attractive flat
Bamboo floor in a villa
Bamboo floor in a city apartment
Light bamboo floor in a nature inspired home
Dark bamboo floor in a modern, lightly decorated house
Which bamboo floor is right for me?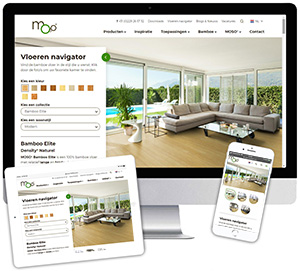 Are you considering a bamboo floor for your home? Would you like to know which bamboo flooring options are available and what kind of look to give your home? In the flooring navigator you can combine different bamboo floors with different styles.