Choosing a material for your decking can be a laborious task: the offer is wide, with many products on the market. Choosing a quality bamboo decking will ensure that you choose a durable and long-lasting material. We invite you to discover the 8 advantages of a bamboo decking to help you in your choice.
Advantage 1: natural beauty
Advantage 2: high resistance to intensive use
Advantage 3: durability
Advantage 4: an ecological choice
Advantage 5: stability
Advantage 6: fast and easy installation
Advantage 7: fire safety
Advantage 8: certified and proven
Advantage nr. 1 of a bamboo decking: its natural beauty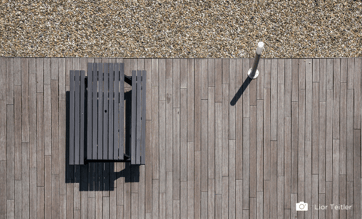 One of the most important elements when choosing a decking board is the appearance. The MOSO® Bamboo X-treme® Decking offers a warm and natural look. When it leaves the factory, the deck board is brown in colour; over time the colour will change to grey, revealing the bamboo grain. Once aged, the colour of the bamboo deck board is similar to that of Teak. The weathering of the board is only aesthetic, it does not change the technical characteristics of the material. It is possible to maintain a brown colour by applying a finishing oil once or twice a year, depending on the use and location of the deck.
MOSO® offers a wide choice of decking boards with different surfaces: flat, reeded, V-groove, curved or brushed. But also with different dimensions: 137, 155 or 178 mm wide and 20 or 30 mm thick. This gives you a wide choice in terms of design, as the different surfaces and dimensions can be mixed and matched. Discover all the different decking boards Bamboo X-treme®.
Advantage nr 2 of a bamboo decking: its resistance
MOSO® Bamboo X-treme® is a very durable deck with a density of +/- 1,150 kg/m3 , which is higher than that of many tropical woods such as Ipe for example. This high density enables it to reach the Brinell hardness of more than 9.5 kg/mm² (EN 1534). Its high density makes MOSO® Bamboo X-treme® suitable for public application, capable of withstanding traffic high quantity of users.
Advantage nr 3 of a bamboo decking: its durability
The MOSO® Bamboo X-treme® Deck is made from bamboo stems, which are heat-treated and compressed to a very high density (200ºC). This process removes the sugars naturally present in the bamboo stem and prevents organisms from feeding on the decking material. The durability of decking can be classified by means of two standards: Durability Class and Use Class. MOSO® Bamboo X-treme® achieves the highest results in both:
Biological durability: Class 1 (EN 350 / CEN/TS 15083-2), simulated graveyard test Class 1 (EN 350 / CEN/TS 15083-1)
Class of use: Class 4 (EN 335)
After more than 10 years of experience and marketing the Bamboo X-treme® Decking board, MOSO® decided in 2020 to extend the warranty from 10 to 25 years. Discover our project reference for the Jumbo Headquarters where the Bamboo X-treme® Decking has been installed since 2013.
Advantage nr 4 of a bamboo decking: an ecological choice
Bamboo is a rapidly renewable and abundantly available resource. The giant bamboo species Moso, native to China, is available without problems: there are more than 7 million hectares of forests. The Moso bamboo stem is very fast growing, maturing after only 4-5 years. During growth, bamboo stems naturally absorb carbon dioxide (CO2) through the process of photosynthesis. The CO2 is stored in the material throughout the life cycle of the product. The use of 100 m² of Bamboo X-treme® decking is equivalent to storing 3391 kg of CO2 emissions, comparable to the CO2 emissions produced by mid-range cars over a distance travelled of approximately 28500 km. Read more about CO2 storage in bamboo products here.

A Bamboo X-treme® Deck provides credits for numerous ecological certifications such as: LEED, BREEAM, HQE, Green Star and DGNB.
Advantage nr 5 of a bamboo decking: its stability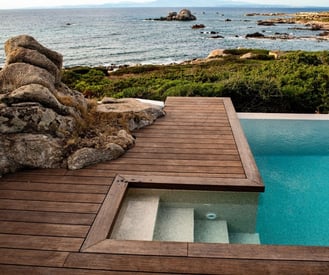 A material installed outdoors will have to face with extreme conditions: changes in temperature, humidity and use put a terrace and especially its stability to the test. The manufacturing process of Bamboo X-treme® Decking combining thermo-treatment and high-density compression of the bamboo strips creates a material with a high level of stability. Thanks to the high stability, the boards will hardly shrink, swell or bend, the deck will look good for many years. In addition, the ends of the board has a tongue and groove system, so there is no need to keep distance (expansion joint) between the ends of the board.
Advantage nr 6 of a bamboo decking: quick and easy installation
Bamboo X-treme® decking boards have a smooth and grooved side offering the possibility to choose the visible surface at the time of installation. The boards are grooved on both sides for quick and easy installation with MOSO® clips that are screwed onto the joists. It is therefore not necessary to pre-drill the boards. In addition, Bamboo X-treme® decking boards are all the same length: 1850 mm, making them easy to transport. It is installed like LEGO®.
Advantage nr 7 of a bamboo decking: its fire resistance
The MOSO® Bamboo X-treme® Decking board ensures the highest safety with its fire resistance. Whether a project is intended for residential or public use, safety is a key element not to be overlooked. Bamboo X-treme® Deck board is naturally fire-resistant, with its high density contributing to this result. Tests have been carried out according to European standards:

Fire standard: Class Bfl-s1 (EN 13501-1) - European standard
Advantage nr 8 of a bamboo decking: certified and proven
By choosing MOSO® Bamboo X-treme®, you are choosing a decking that is certified according to European standards. Our test reports are available on request. It's also proven, since its launch in 2010, more than 6 million m² have been installed worldwide. The decking has proven its resistance to different climates and installation conditions.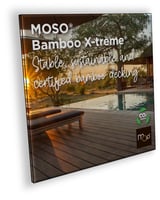 Convinced by the 8 benefits of bamboo decking and want to know more? Download our Bamboo X-treme® Decking Inspiration Guide!