Bamboo decking, like other natural materials such as wood, require maintenance if a long lifespan and beautiful appearance are desired. By regularly maintaining a bamboo deck, for example every spring, the bamboo decking is likely to last a lifetime. This also prevents problems such as slipperiness, but what is important for the maintenance of a bamboo deck?
Here are the top 5 tips! Would you prefer to watch a how-to video? Then this how-to will show you just how to properly maintain a Bamboo X-treme® Deck with Woca cleaner and decking finish.
5 tips for bamboo decking maintenance:
Tip 1: Maintenance starts with the installation of a bamboo deck
Bamboo X-treme® can be supplied with a double layer finish of Woca oil or Sikkens Cetol WV 771. As a result, the surface of the material is directly protected against sun and water. Due to the longitudinal fibres of bamboo and the shape of the decking boards, the ends of the boards are the most vulnerable parts. This is why the board ends are pre-finished in the factory with an end of the board sealer (Sikkens Kodrin WV 456). During installation, the whole planks are very rarely used. The installer cuts the planks and creates new cut ends. MOSO® highly recommends that these cut ends are treated with the same Sikkens Kodrin sealer (available as an accessory) or a similar sealer, or end wax. In addition to the finish, ventilation is also important for a long life span of a bamboo deck. Correct ventilation allows a deck to dry properly when it gets wet. As a result, dirt and algae have less chance of adhering to the material. You can download the full installation instruction for bamboo decking from our website.
Tip 2: Prevent the accumulation of dirt, such as leaves
In addition to sun and water, dirt also affects a natural material, such as bamboo decking, as dirt can remain damp for a long time. Leaves and dirt particles that remain on a terrace for a long time can cause the boards to become slippery. Therefore, an important tip for the maintenance of bamboo decking is to keep the deck free of dirt accumulation. Sweeping the terrace with a broom is enough to prevent problems.
Tip 3: Thorough cleaning prepares the bamboo deck for spring
Depending on the climate, but especially in relatively humid areas, dirt and algae can adhere to the terrace. This does not only happen to bamboo decking, but also on tiles, wood and stones. Certainly after a humid winter period, a terrace needs a good cleaning. MOSO® recommends Woca Cleaner or a similar decking cleaner in combination with a silicon carbide broom. With this hard broom, dirt is cleaned thoroughly and any loose bamboo fibres are removed. For large decks it is also possible to use a scrubbing machine with a silicon carbide disc. In this instructional video you can see how to properly clean a deck.
Tip 4: Do not use a pressure washer but use plenty of water
As cleaning is an important part of maintaining a bamboo deck, it is logical to initially want to spray a terrace clean with a pressure washer. This is definitely not recommended. A water jet that is too hard (too much pressure) will force the bamboo fibres loose from the boards, making them unnecessarily rough.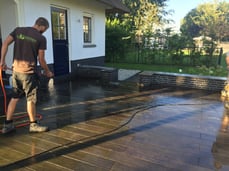 Rough boards retain dirt quicker and it is even possible that splinters may occur. During and especially after cleaning the deck with decking cleaner, the decking boards should be thoroughly rinsed with water, preferably rising the deck directly with a garden hose.
Tip 5: Treat the decking boards with water-based decking oil
After thorough cleaning of a bamboo deck, a treatment with a water-based finish, like Woca Decking Oil (teak colour), Messmers Bamboo Deck oil or Sikkens Cetol WF 771 (ipe colour) is recommended. The finish brings the deep brown colour back into the bamboo. In addition to this, it provides protection to the material, making it less rough and dirty. One extra tip: the terrace must be thoroughly dry before applying oil, which can take at least a day before the boards are completely dry after cleaning! Decking finish can easily be applied with an applicator, brush, or roller. It is important that no residue of oil or finish is left behind. After applying the finish, it takes 24 to 48 hours before the finish is fully cured and retracted, depending on the weather conditions. The finished boards must remain moisture-free during the curation time.
MOSO® Bamboo X-treme® does not need to be re-finished every year, unless greying of the decking boards is not desired. Instead of the recommended finish, another decking oil can be used; it is recommended to make a test sample.
What is important for bamboo decking maintenance?
Bamboo decking boards are not maintenance-free, but cleaning and oiling are not complicated processes. Maintaining bamboo decking results in a beautiful, durable decking that may last a lifetime!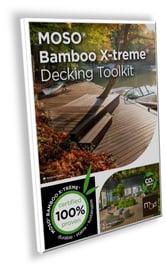 Convinced by the ease of maintenance of bamboo decking and interested in knowing more? Download our Bamboo Decking ToolKit and learn all you need to know about bamboo decking!