One of the most frequently asked questions about bamboo decking boards is 'how durable is a bamboo decking board?' and we are happy to provide you with a complete answer. Bamboo decking boards have only been on the market since 2009. As a result, the lifespan of the material is not as well-known as that of, for example, hardwood. Nevertheless, the answer to the question 'how durable is a bamboo decking board?' can be answered with certainty: X-tremely durable!
What you need to know about the lifespan of a bamboo decking board:
Lifespan of bamboo decking boards based on durability class
The lifespan of wood, bamboo and other natural materials can be compared by means of a classification according to the European standard EN 350. In the wood industry the classification is common knowledge:
Durability Class 1 = very durable, expected life span 25 years or more
Durability Class 2 = durable, expected life span 15-25 years
Durability Class 3 = moderately durable, expected life span 10-15 years
Durability Class 4 = little durable, expected life span 5-10 years
Durability Class 5 = not durable, expected life span 5 years or less
The durability class is determined on the basis of extensive tests specified by the EN 350 standard. MOSO® Bamboo X-treme® is tested in accordance to test standard CEN/TS 15083-2 for the application of products in direct contact with the ground. Prior to this test, MOSO® Bamboo X-treme® has been tested according to CEN/TS 15083-1 for the application of products without ground contact. According to both tests, MOSO® bamboo decking boards achieve Durability Class 1. The world's most popular bamboo decking has a life span of 25 years or more.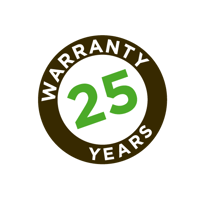 Bamboo decking with a life span of 25 years or more
The classification of durability class 1 gives bamboo decking an expected lifespan of 25 years or more. But how can a grass (bamboo is a grass species) be used as decking for as long as it lasts without rotting away? Wood and bamboo decking have a tough job: they are constantly exposed to harsh weather conditions, from rain or even snow to intense sunshine. The horizontal installation of the boards means that they can remain damp. Moisture and mould can cause the material to rot. The reason that this does not happen quickly with bamboo is that the material is engineered according to the strictest quality criteria. The bamboo is processed from stem to strip and then compressed into a panel, that is profiled as the final board. This is done with heat and high pressure which changes the composition of the material:
Due to the thermal treatment, the final bamboo boards contains hardly any sugars, which prevents moulds from infesting the boards.
By high compression, the material becomes very dense and heavy, which means that moisture can hardly penetrate the material and cannot cause damage.
This combination of heat and compression makes the material very stable, it does not move, unlike many types of wood which shrink, expand, bend or twist.
Thanks to the production steps from bamboo stem to bamboo decking board, a product with an expected lifespan of 25 years is created. MOSO® underlines this expectation with a warranty of 25 years.
The method of production determines the quality and lifespan of bamboo decking
Not all bamboo decking boards are produced in the same way. This results in products with different quality levels. As mentioned, bamboo decking is produced from bamboo strip to board. In this process the technical properties are improved with heat and compression. This can be done at different temperatures and with different compression forces. The production process can also be accelerated in order to save production costs. MOSO® has improved the production steps several times in the last 10 years and ensures that the decking boards are of the best quality.
Maintenance extends the lifespan of a bamboo deck
The lifespan of any product or material can be extended by properly maintaining it. The maintenance of bamboo decking is limited to cleaning the terrace and, if desired, oiling it annually. Without maintenance, the boards will age and the surface will become rougher. Most end users like this as it coincides with a natural material. If the user considers the terrace to be too rough or the colour too light, then it is time for maintenance. Unlike softwood, maintenance oil is not necessary to stop Bamboo X-treme from rotting.
Ten years after the introduction of bamboo decking
It is easy to determine the expected life span of a natural material that exists for a long time. Bamboo decking boards, in the form of Bamboo X-treme, have only been available since 2009 and consist of 90% natural material. Nevertheless, after a few years a good estimation can be made about the durability of bamboo decking. Various reference projects show that bamboo decking becomes more beautiful after a few years. Would you like to visit a project or receive photos? Contact one of our bamboo experts or take a look at our inspiration projects.

Bamboo decking Toolkit
If you want to know all about the benefits and possibilities of bamboo decking, we offer you our complete Decking Toolkit. This document includes all information about the material, the installation, the maintenance and what you can expect from a decking that is both sustainable and durable.