The phenomenon of transforming a rooftop into a living space has become increasingly common throughout the world. A rooftop terrace not only creates a new outdoor living space but also offers a natural area and often a breath-taking view of the city or nature. Are you looking for some rooftop decking ideas? Let yourself be inspired by rooftop designs with a bamboo decking:
Rooftop decking at a private apartment in Buenos Aires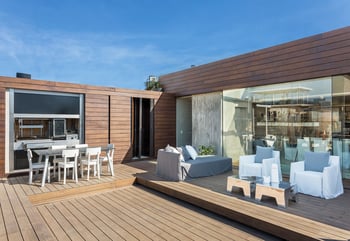 In order to create a space of relaxation in the heart of the capital of Argentina, MOSO® Bamboo X-treme® Decking has been installed on the rooftop of this apartment building. Bamboo X-treme® is not only applied as a deck but also as a cladding element. The rooftop terrace of this apartment is a room in itself: with an outdoor kitchen, sofas and tables for entertaining and a swimming pool, allowing residents to make the most out of this outdoor space. The sliding doors and sliding pool cover are great ideas for your rooftop decking project. More ideas about creating your ultimate rooftop deck.
Bamboo decking at the rooftop of the Versailles Exhibition Center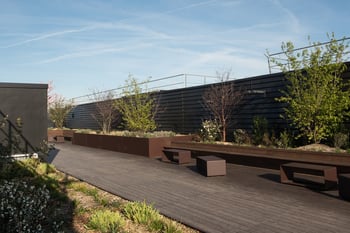 The Parc des Expositions de Versailles is located just 15 minutes from the Eiffel Tower in Paris and offers 216,000 m² of exhibition space, spread over 7 pavilions. It is the largest convention centre in Europe. Pavilion 7 has a rooftop offering a large outdoor area for visitors to get some fresh air and take a walk. In order to create a natural, modular space with a floor that is sufficiently resistant to heavy traffic, the architects chose MOSO® Bamboo X-treme® Decking. More than 3600 m2 of decking has been installed and the furniture is also made with Bamboo X-treme®.
Bamboo decking at the Hotel 1882 rooftop in Barcelona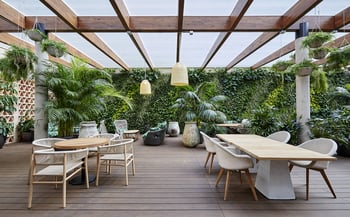 Located in the Eixample district, in the heart of the Catalan capital and next to one of Gaudi's emblematic works "Sagrada Familia", Hotel 1882 in Barcelona offers an experience that combines luxury with relaxation. The hotel's rooftop has been designed with bamboo decking to add a warm and qualitative touch to the outdoor space but above all, to respect the approach of a responsible and environmentally friendly hotel. The terrace is also equipped with different plants to reinforce the feeling of being in a natural space. Guests can enjoy the swimming pool and have lunch or dinner in the hotel restaurant on the rooftop. Be inspired by this rooftop deck idea and create a natural space in your project.
Rooftop at an apartment building in Philadelphia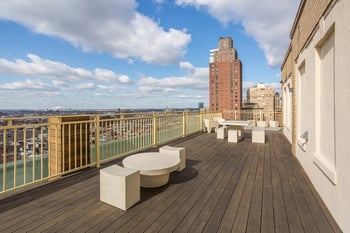 Located in the heart of downtown Philadelphia, in the midst of all the skyscrapers, the Versailles apartment buildings' rooftop has been designed specifically for the residents. The aim is to provide its residents with an outdoor space that offers an opportunity to carry out various activities, such as: yoga classes, a barbecue or grill and a general relaxation area with seats and tables. Focused on sustainable and responsible construction, the decking board selected for this project was MOSO® Bamboo X-treme®. The boards are made from a widely available resource offering significant sustainable advantages.
Green rooftop decking idea in the heart of Amsterdam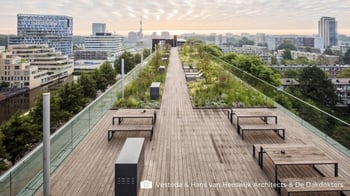 Amsterdam is renowned as one of the European capitals in terms of sustainability and respect for the environment. The Dutch city is densely populated. In order to offer more green spaces to its inhabitants, the housing complex "De Boel" is equipped with a green rooftop. MOSO® Bamboo X-treme® Decking was naturally chosen for its ecological and sustainability benefits. The decking board, as well as the furniture elements (tables and benches) are made from Bamboo X-treme® Decking boards. Plants found around the rooftop are installed in boxes that store rainwater to ensure responsible watering of the vegetation. A combination of natural decking with large areas of vegetation is a great rooftop decking idea for residential and office buildings in large cities.
More Bamboo X-treme® Decking inspiration?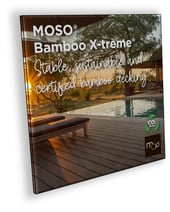 Discover more roof terrace inspiration with the Bamboo X-treme® terrace guide. Download our Inspiration Guide or visit our inspiration page.