Which decking solution should you choose for your project? Have you already thought about a bamboo wood decking? MOSO® Bamboo X-treme® decking has many benefits, allowing for different applications, such as a residential project or application in a high-traffic area. Bamboo wood is also versatile and can be applied in a variety of ways, offering design freedom. We invite you to discover the five most important benefits if you choose a bamboo deck for your project:
Bamboo wood decking: a material of natural beauty
One of the most important elements when choosing a deck board is of course its appearance. The MOSO® Bamboo X-treme® bamboo deck offers a warm and natural look. When installed, the deck board is brown in colour, but over time it will turn grey, revealing the grain of the bamboo.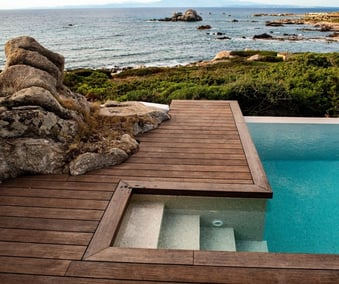 When aged, the colour of the bamboo wood deck board is similar to that of Teak, a tropical wood. The ageing of the board does not change the technical characteristics of the material. It is possible to maintain a brown colour by applying a finishing oil once or twice a year, depending on the location and use of the deck.
MOSO® Bamboo X-treme® Deck boards are available with different surfaces: flat, grooved, curved or brushed. But also with different dimensions: 137, 155 or 178 mm wide, 20 or 30 mm thick. This gives you a wide choice in terms of design, as the different surfaces and dimensions can be mixed and matched. It is also possible to apply the Bamboo X-treme® range as façade cladding or outdoor furniture, for example, in order to harmonise the materials applied outdoors for your project.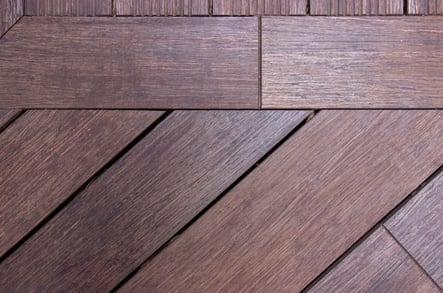 Natural but stable bamboo wood decking!
The second benefit of a bamboo deck, and not the least, is its superior stability. The MOSO® Bamboo X-treme® Decking production process, which combines heat treatment and high-density compression of the bamboo strips, results in a material with an extremely high level of stability. Thanks to the high stability, the boards will hardly shrink, swell or bend, the deck will look good for many years. The high stability also allows endless installation with fasteners and the boards can be installed in designs that are impossible with other materials. To judge by this, nothing better than sharing references of projects installed years ago and still looking good:

MOSO® Bamboo X-treme® Decking: certified CO2-neutral during the product lifespan
Bamboo: the fastest growing plant
Bamboo is a widely available resource worldwide. The Moso species of bamboo, native to China, is available in abundance: there are more than 7 million hectares of forests. Moso bamboo stem is very fast growing, maturing in only 4-5 years. During growth, bamboo stems will naturally absorb carbon dioxide (CO2) through photosynthesis. The CO2 is stored in the material for the entire life of the product. Read more about the sustainability of bamboo here.
Responsible production
The manufacturing process of the product also makes it possible to obtain certified CO2 neutral products. Our production partner, for the Bamboo X-treme® range, uses the waste from processing the bamboo strips to create energy to run the factory and took many more measures to produce the bamboo products in a sustainable way. Read more about how Bamboo X-treme® is made.


A durable bamboo deck with a 25-year guarantee
The MOSO® Bamboo X-treme® Decking is made from bamboo strips, which are heat-treated (at 200°C) and compressed into a board with a very high density. This process removes the sugars naturally present in the bamboo stem and prevents organisms from feeding on the material. It is also very resistant to damage, with a density of +/- 1,150 kg/m3 , higher than that of many tropical woods such as Ipe. This high density enables it to reach the Brinell hardness of more than 9.5 kg/mm² (EN 1534). The bamboo wood decking is particularly suitable for applications in high traffic projects. The durability of the decking can be classified by means of two standards: Durability Class and Use Class. MOSO® Bamboo X-treme® Decking achieves the highest results in both categories:
Biological durability: Class 1 (EN 350 / CEN/TS 15083-2), simulated graveyard test Class 1 (EN 350 / CEN/TS 15083-1)
Class of use: Class 4 (EN 335)
In 2020, after ten years of market experience in the decking market, MOSO® decided to extend the guarantee for the Bamboo X-treme® Decking board from 10 to 25 years.
Certified fire resistant bamboo wood terrace
Finally, the fifth benefit of a MOSO® Bamboo X-treme® Deck is fire certification. The decking board ensures the highest safety with its fire resistance. Whether a deck is intended for residential or public use, safety is a key element not to be overlooked. Bamboo X-treme® Decking is naturally fire-resistant, with its high density contributing to this result:
Fire standard: Class Bfl-s1 (EN 13501-1) - European standard
Flame Spread Index: Class A (ASTM E84) - American Standard


Read more about the fire resistance of Bamboo X-treme® here.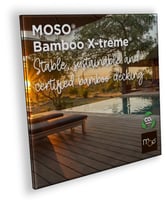 Convinced by the 5 benefits of a bamboo wood decking and you want to know more?