Terraces installed in shopping centers and shops have to face tough conditions: heavy traffic, delivery carts and strict safety standards make this application particularly difficult. Bamboo decking can be a very good choice due to its many advantages:
A bamboo terrace is impressively hard and durable
MOSO® Bamboo X-treme® Decking is made from bamboo strips, which are heat-treated (200ºC). and compressed to a very high density. This process removes the naturally present sugars from the bamboo stem and prevents organisms from feeding on the decking material. The durability of bamboo decking is classified using standards such as those used for wooden decks: Durability Class and Use Class. MOSO® Bamboo X-treme® achieves the highest results in both categories:

Biological durability: Class 1 (EN 350 / CEN/TS 15083-2), simulated graveyard test Class 1 (EN 350 / CEN/TS 15083-1)
Use Class: Class 4 (EN 335)
MOSO® Bamboo X-treme® Decking is very hard, with a density of +/- 1,150 kg/m3 higher than many tropical woods such as Ipé +/- 1,050 kg/m3 or Bangkirai +/- 930 kg/m3 . This high density allows bamboo decking to reach a Brinell hardness of more than 9.5 kg/mm2 (EN 1534). Its high density and hardness gives MOSO® Bamboo X-treme® sufficient strength for applications in high-traffic areas, such as shopping centres or public spaces.
Bamboo decking with a high stability
Decking has to face extreme conditions: changes in temperature, humidity and exposure to sunlight have an impact on the stability. In applications such as shopping centers, restaurants and other spaces intended for the public, it is important that terraces provide a safe environment for users. Applying a decking board that is likely to expand and shrink and can swell a lot could lead to a potential falling hazard.

The production process of MOSO® Bamboo X-treme® Decking combines heat treatment and High-Density® compression of the bamboo strips to create a material with a high degree of stability. In addition to this, the ends of the boards have an end-match system, so there is no need for an expansion joint between the board ends. Read more about about the production process for Bamboo X-treme®.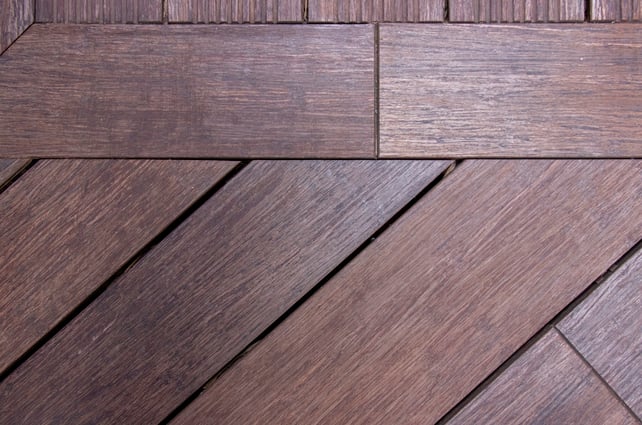 Bamboo decking fits into responsible and sustainable building
Bamboo is a widely available resource. The giant bamboo species Moso, native to China, is abundantly available, with more than 7 million hectares of forests. The Moso bamboo stem is very fast growing, maturing after only 4-5 years. During growth, bamboo stems naturally absorb carbon dioxide (CO2) through the process of photosynthesis. CO2 is then stored in the Bamboo X-treme® material for as long as it is in use in the project. The use of 100m2 of Bamboo X-treme® Decking stores 3391 kg of CO2, which can be compared to the CO2 emissions produced by a mid-range car after driving approximately 28500 km.

MOSO® Bamboo X-treme® Decking boards can provide credits for numerous ecological certifications such as: LEED, BREEAM, Green Star, and DGNB. Choosing bamboo decking for shopping centers or restaurants means choosing a sustainable and ecological material. Read more about carbon storage in bamboo products.
A naturally beautiful bamboo terrace that is easy to maintain
MOSO® Bamboo X-treme® Decking offers a natural, warm and high-quality appearance. The new deck board has a dark brown colour, but over time it will change to grey, revealing the bamboo grain. Once weathered, the colour of the bamboo decking board is similar to that of Teak. Weathering of bamboo decking is only aesthetic, it does not change the technical characteristics of the material.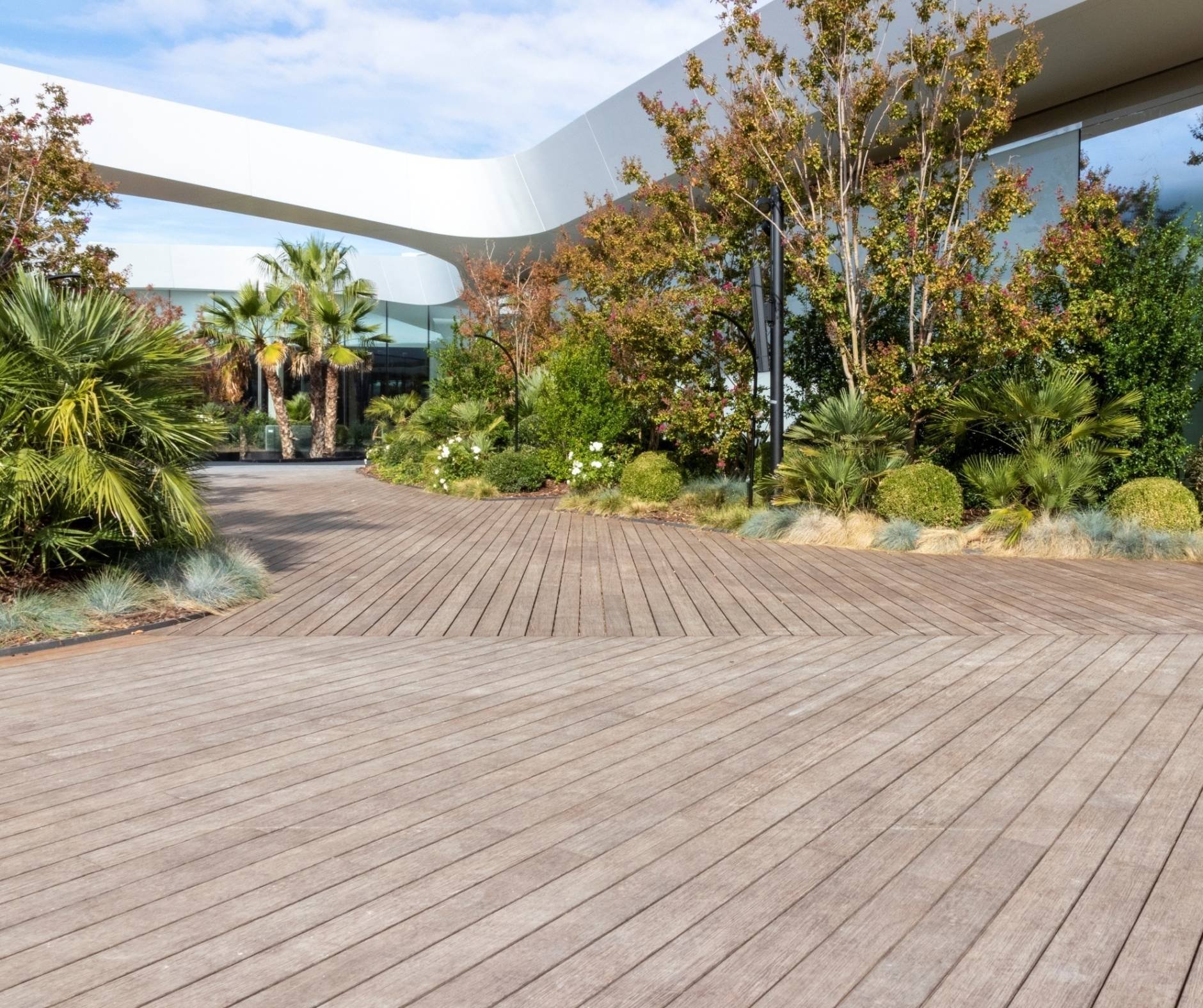 For applications in shopping centers or other public areas, it is often preferred to keep the decking appearance similar to the newly installed look. It is possible to maintain a brown colour by applying a finish once a year. Before applying the finish, the bamboo decking should be cleaned with a silicon carbide broom. For large areas, there are machines available to carry out the cleaning faster.
A complete solution: fully bamboo or Grad installation systems
In order to ensure the durability of a bamboo decking, it is essential to carry out a reliable installation adapted to the requirements of the project. For example, for application in a shopping center, the load that the bamboo decking will have to support is much higher than that of a terrace for residential use. For this reason, a different sub joist frame is required with, for example, shorter center-to-center joist distances. MOSO® offers a complete solution for the installation of the bamboo deck. Bamboo X-treme® joists are available with the same Use Class and Durability Class as the decking. MOSO® fasteners will also ensure the Bamboo X-treme® Decking boards are securely fastened. This full solution can be used for any application, from residential patio to restaurant terrace.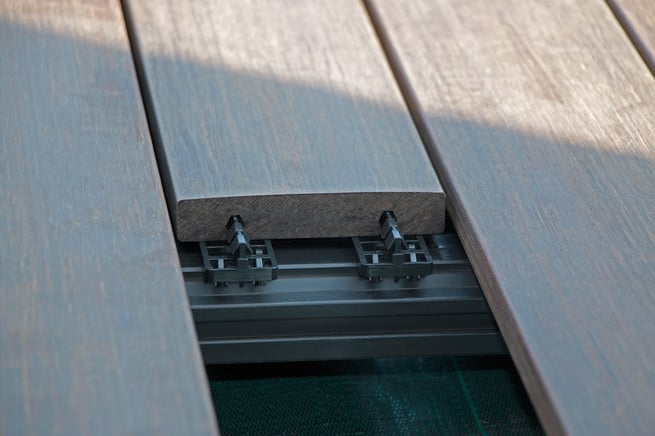 Accessibility to the elements underneath terraces in shopping centers is often required. MOSO® Bamboo X-treme® Decking is available with a special profile that can be clicked onto the Grad system: an ingenious, complete installation system that allows the boards to be installed and removed in one click. With the Grad system, there's no need for access hatches, as all boards can be easily removed. The system consists of aluminium rails and accessories. Read more about the MOSO® by Grad solution.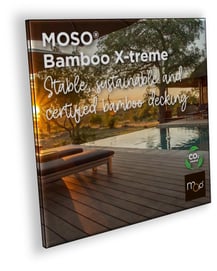 Be inspired by our Bamboo X-treme® brochure in which you will find project references and key information on decking.