Similar to IPE, Cedar or Redwood, UV light affects thermally modified Bamboo X-treme® Decking and Siding boards. Therefore, a frequently asked question: how do bamboo decking and siding boards fade? The pictures below will help to give you an idea of how the color changes over time.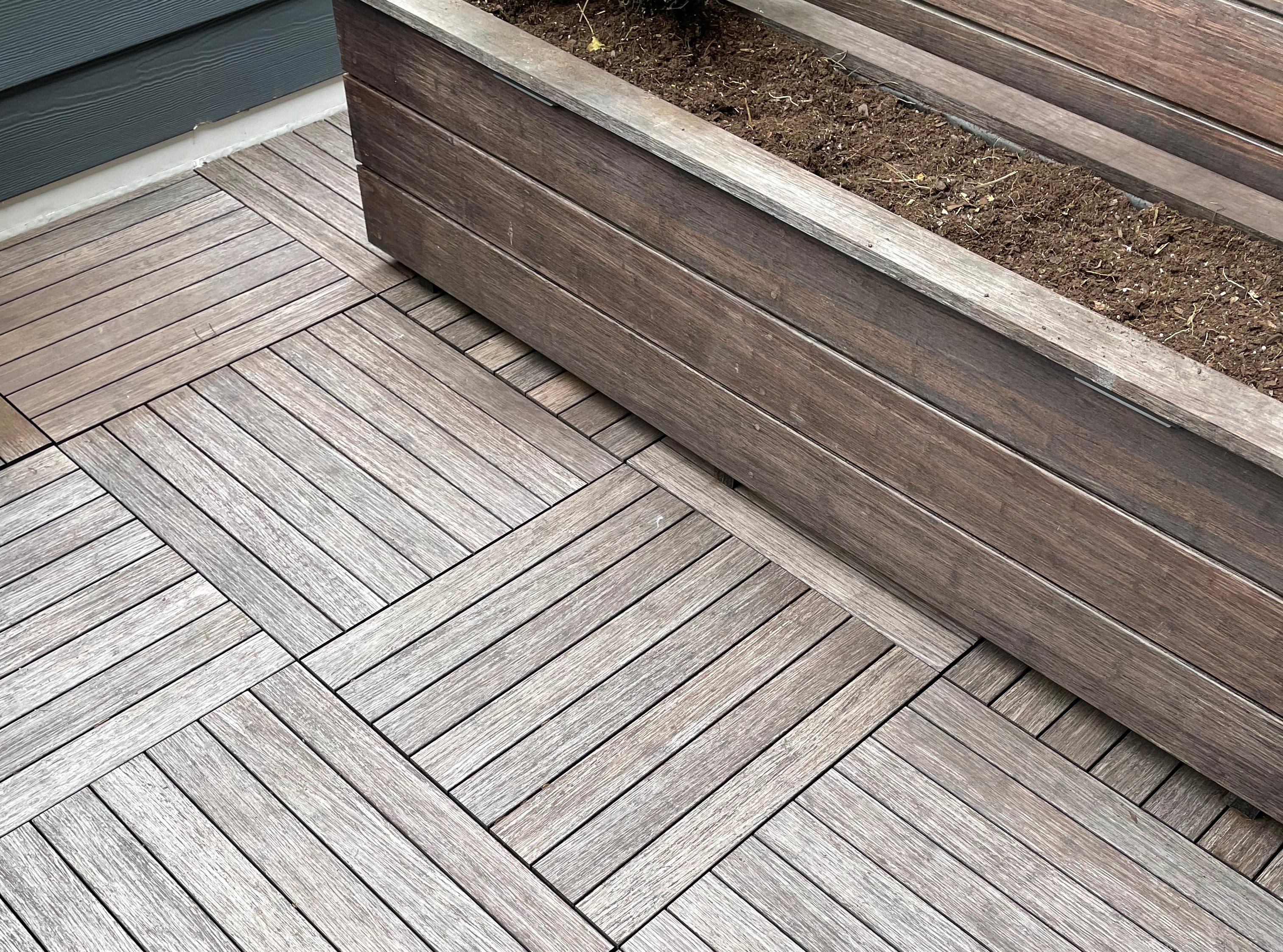 Fading does not affect quality or performance
It is important to know that fading, or rather greying, does not affect the quality of the material. The surface of the bamboo decking becomes lighter and changes color from dark brown through light brown to a grey brown. The surface may also become slightly rougher, but the stability and hardness of the bamboo deck boards remain unchanged.
There's a reason that MOSO® gives a 25-year warranty on Bamboo X-treme® Decking boards, even though color retention is not covered by the warranty. The photo to the right pictures bamboo decking boards used as fencing around a terrace. Years after installation, the planks are still straight. Find more photos of the bamboo decking and fencing at Hotel Riberach Belesta here.
Color changes in a matter of months
It is not possible to give a definite indication of the weathering, as this depends on the location and sun exposure of the decking boards. The degree of UV ray intensity is important as well: a decking board in sunny southern California or Texas will grey much faster than a decking board in New England, Oregon or Canada. Boards located in the shade will not grey as quickly as boards exposed to full sunlight for the entire day.
The below photos of the deck at Jumbo Maritime's head office in Sliedrecht clearly show how the color of Bamboo X-treme® evenly ages. The photo on the left was taken one month after installation and the photo on the right was taken about five years later. On our website there are plenty more pictures of this bamboo X-treme Deck.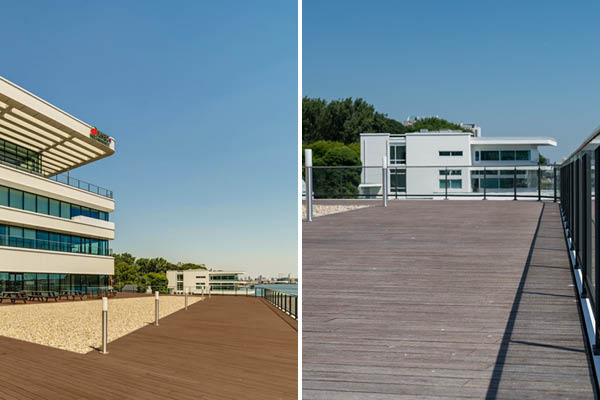 Maintaining the color of bamboo decking
Do you prefer the warm brown tone to a greyish one? As a natural material, it is easy to maintain Bamboo X-treme® Decking. Like hardwood, maintenance will ensure a long life and best appearance. After thorough cleaning, an oil finish can be applied. MOSO® recommends Messmer's Bamboo oil, which is also the oil that is used in the photo below. The photos show Bamboo X-treme® Decking boards that have become dirty several years after installation, the boards after cleaning and after applying a layer of Messmer's Bamboo Oil. The oil and accessories are available online at World of Stains.com or Messmer's standard IPE oil can also be found at most lumber yards that sell exterior hardwoods. Watch this video of the maintenance of a Bamboo X-treme® Deck or read our blog on proper Bamboo X-treme® Deck care and maintenance.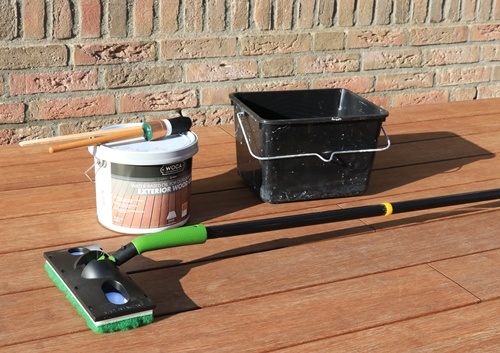 And how do bamboo siding boards weather?
Bamboo X-treme® boards in vertical installations, such as siding, do not age as quickly as boards installed for a deck. This is mainly due to the lack of traffic (no feet on the siding) and less direct sunlight. As siding is not usually oiled, i.e. is installed untreated, the first signs of greying are visible more quickly but it takes longer for the bamboo to fully weather. Below are photos of a Bamboo X-treme® Rainscreen Siding installation in Colorado. The image on the left was taken shortly after installation, while the image on the right shows the siding after 12 months of exposure to all elements.