Deck care and maintenance can be a pain. But it is ultimately worth your time and effort in the long run. A well-maintained bamboo deck can last you many summers, looking beautiful and performing as promised. In fact, now is the perfect time of year to think about your MOSO® Bamboo X-treme® deck's maintenance. Early autumn brings the majority of North America the ideal weather conditions for caring for and maintaining your bamboo deck.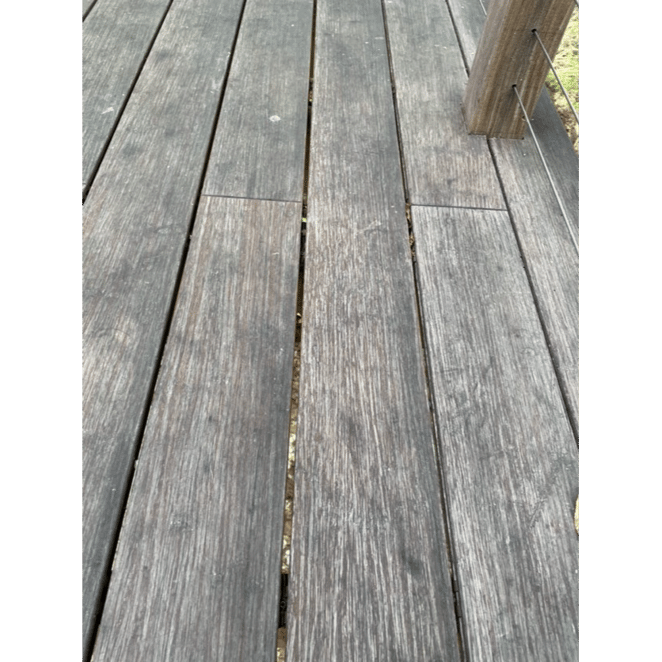 You might have noticed some color change in the surface of your deck; as bamboo ages and weathers, it develops a gray patina. Don't be alarmed though, this graying is completely normal and can be fixed by following these instructions.
The first thing that you should do is check the weather forecast. For best results, finish your deck on a day where the weather is temperate, ideally in the fall or spring before heavy pollen. The best conditions are when the temperature is over 65 degrees, cloudy or no bright, direct sunlight, and the trees are not pollinating. It's because of these necessary conditions that usually make it best to wait until fall or spring to oil your deck.
Clean and Brighten the Surface
Finishes will not adhere well to a dirty deck. This critical cleaning step removes any built-up dirt and grime that is on the MOSO® Bamboo X-treme® Decking surface. MOSO® recommends using Mesmer's Wood and Deck Cleaner and Brightener products for this process. If Messmer's is hard to come by any oxalic acid hardwood cleaner will suffice.
Apply the cleaner with a pump sprayer, mixed according to the directions. Ensure that the mixture is applied thoroughly and evenly across the entire deck. Wait 20 to 30 minutes for the cleaner product to work properly. Then use a stiff bristle brush to scrub the deck surface. You'll have to put in a little extra elbow grease at this point to get the bamboo as clean as possible.
After scrubbing, rinse thoroughly and let the deck dry overnight. You will notice a color change the next morning, much of the gray patina will be gone at this point, leaving the original, natural dark color of the MOSO® Bamboo X-treme® Decking product visible once again.
Note: If you wish to leave your deck natural and unfinished you can stop at this point.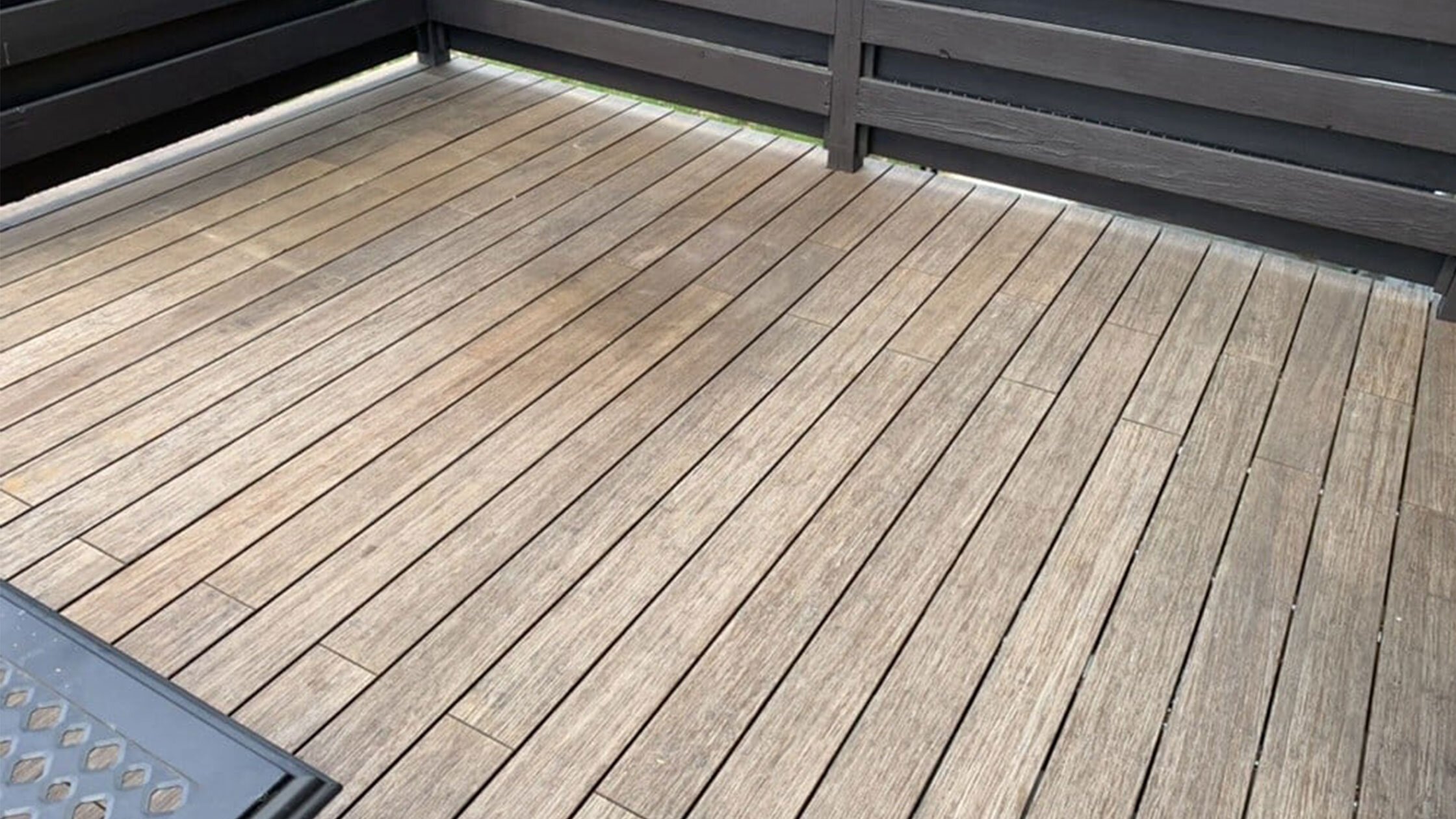 Apply the Oil Finish
Now comes the actual finishing process. MOSO® recommends using Mesmer's Bamboo Oil Finish for this process. If Messmer's is difficult to find most oil based penetrating oil finishes will do. Do not use acrylic or water-based finishes. It is important to remember that oil is highly flammable, and you should have a plan in place to properly dispose of applicator products.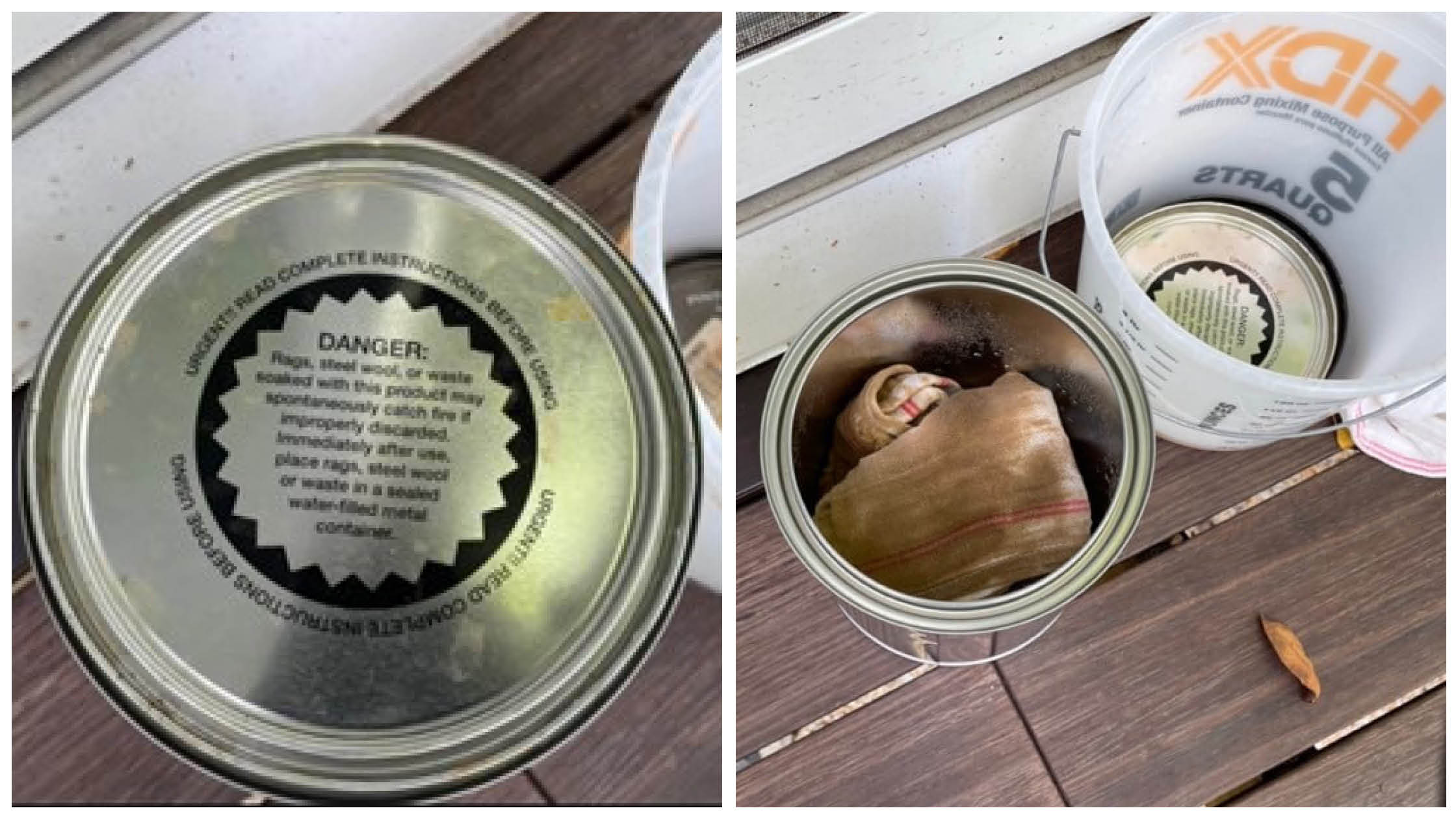 Apply the oil to your deck surface with a high-quality brush or synthetic applicator. Be sure to get good coverage, but do not apply the oil too heavily. Work in areas that are easy for you to reach, generally, no more than 20 sqft. The most important thing to remember is to not allow oil to pool on the surface. The MOSO® Bamboo X-treme® Decking material is non-porous, it does not absorb the oil like wood. Once the oil has dried, it is very difficult to remove.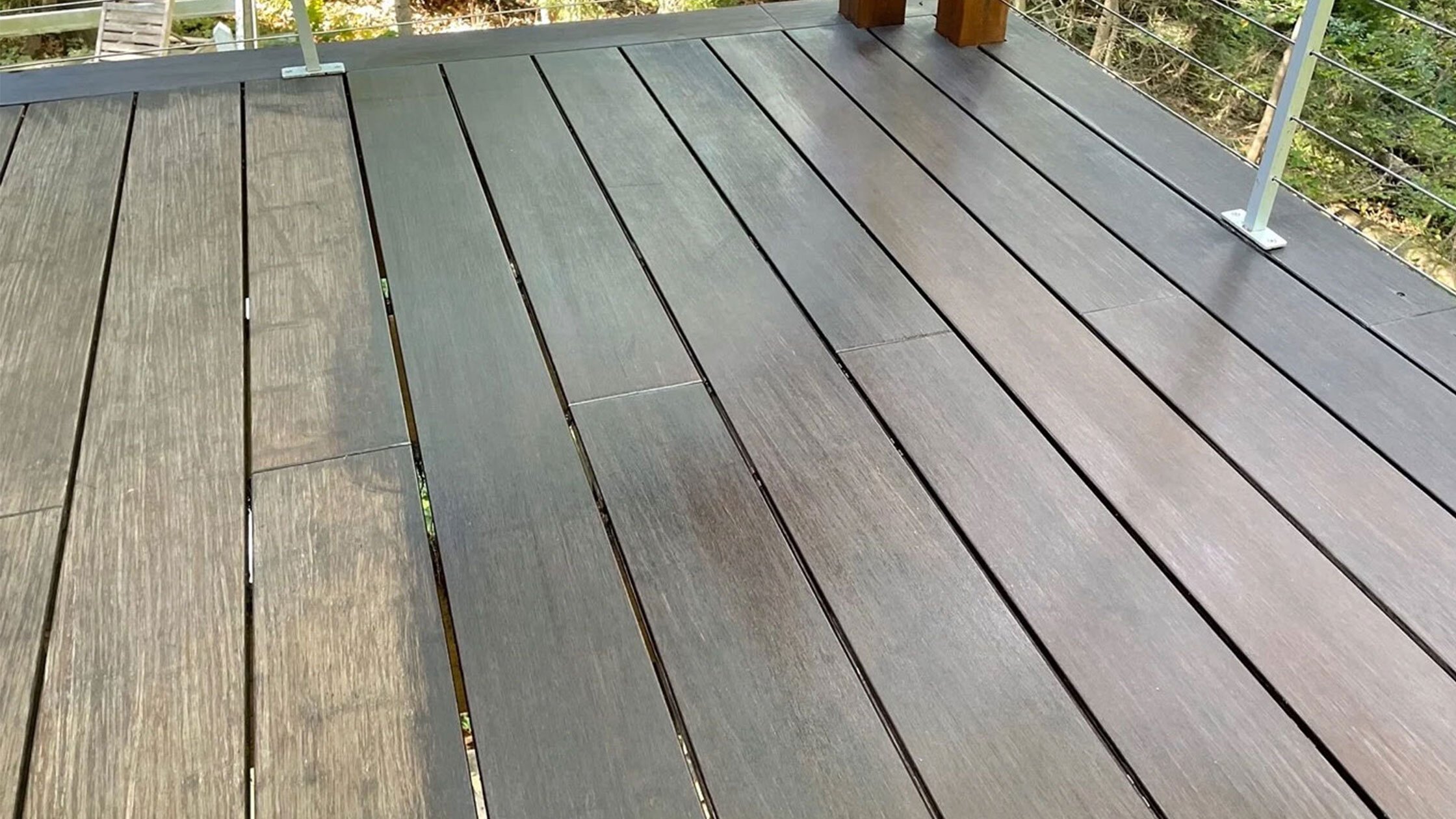 Wipe Off Excess Oil
Now that the oil finish has been applied, wait no more than 15-20 minutes. Use a rag to thoroughly wipe off excess oil after application.
Again, this is an important step as the bamboo decking material should not have any excess oil left on the surface. Remember that this MOSO® Bamboo X-treme® Decking material is much more dense than wood and will react differently to oil finishes.
Once the excess oil has been wiped off and you have safely disposed of your rags, wait about 24 hours for the oil to cure. Your bamboo deck should be a beautiful and natural dark color once again, and ready to enjoy!

You can read our care and maintenance instructions or watch a video tutorial for more information on caring for and maintaining your MOSO® Bamboo X-treme® Deck.