Bamboo is well known for its durability and ecological benefits. However, not all products made from bamboo are necessarily sustainable. Are you curious about what this means for bamboo decking? Read what to look out for in this blog.
Bamboo decking and the environment
Sustainability and green building are important themes for architects, builders and project developers. Environmental impact is becoming more and more of a decisive factor when choosing materials. This also applies to decking boards that can be used for terraces, footpaths and stairs, among others. Bamboo decking generally scores well as an environmentally friendly material but unfortunately not all bamboo decking boards are the same.
Compare the durability of bamboo decking boards and other characteristics with our comparison tool.
The life cycle of bamboo decking boards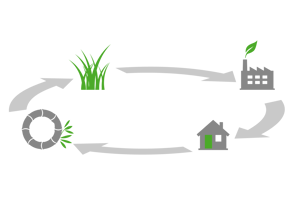 To determine the sustainability of products, each phase of the life cycle must be taken into account. From cradle to grave. In addition, it is important to look further than just the CO2 emissions and lifespan of bamboo decking boards but also include the working conditions in the factories in the evaluation.
Growth phase
Bamboo grows faster than any other plant: up to one metre per day! A bamboo plant can grow up to 20 metres high. After approximately 4-5 years, the bamboo plant is mature and the old stems can be harvested. Due to the extensive underground network, no entire bamboo plants are cut down for the production of bamboo decking and other products. Rather, individual stems are harvested and deforestation is therefore not an issue. On the contrary. Regular harvesting of older stems provides younger stems with more space, strengthens the mother plant and keeps forests healthy. Bamboo absorbs large amounts of CO2 during the growth phase through photosynthesis, which is locked in the products for the lifetime.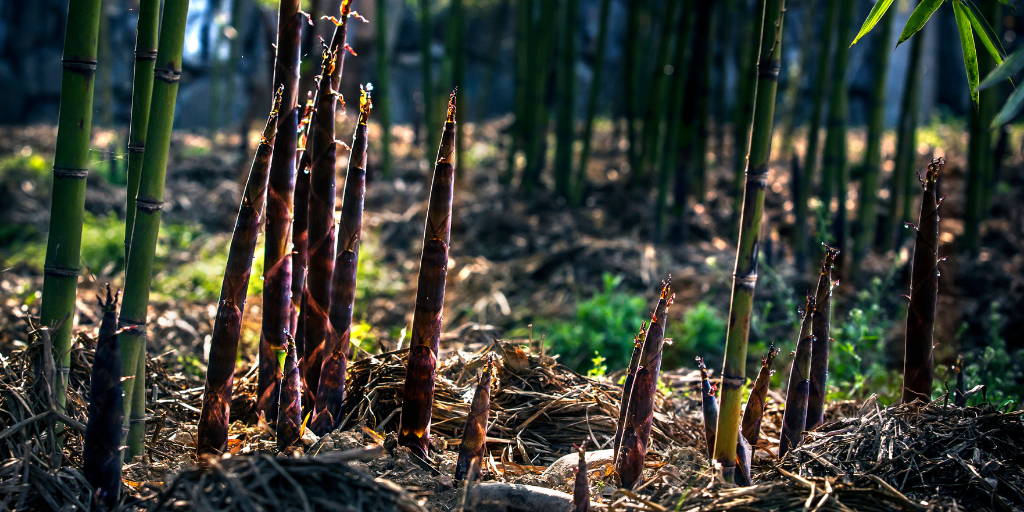 Production phase bamboo decking
Most bamboo products used in the western world are manufactured, in other words, a product is made from bamboo stems. For this purpose the stem is split into strips and from the strips the final product can be made. To be honest, bamboo decking boards are not the most environmentally friendly bamboo product if you look at the production. Thermo-Density® bamboo by MOSO® is more stable and durable than other bamboo materials due to the different production steps, including heat treatment at 200°C and compression under high pressure. Energy is needed for this. An adhesive is also used to make bamboo decking from individual bamboo strips. Although adhesive is necessary to guarantee the quality of the bamboo decking boards, MOSO® tries to produce bamboo decking boards with as little adhesive as possible (approx. 10%) and from respected brands such as Dynea. At the same time, MOSO® is looking for environmentally friendly, preferably bio based, glues that ensure the bamboo decking boards are as stable as the current product. To date, no suitable alternative glue has been found.
Another important point to pay attention to with bamboo decking boards production is the working conditions in the production facilities. Bamboo decking boards are produced in factories in China, which is why some people are concerned about the working conditions. Therefore, MOSO® only works with facilities that have the ISO 9001 and ISO 14001 certification. More importantly, MOSO® works closely with the factories and regularly checks the working conditions during production and product inspections. On our website we provide more information about how bamboo decking is produced and how MOSO® works in China.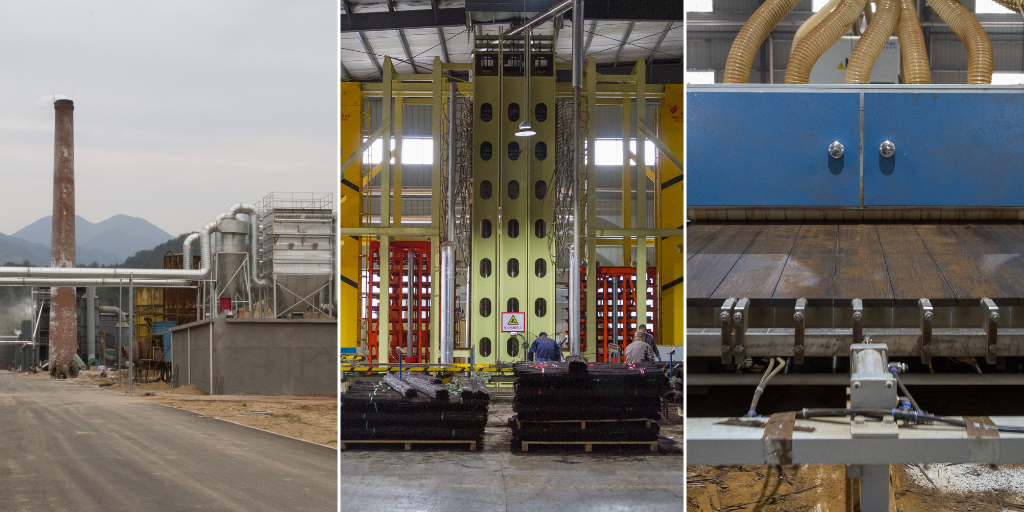 Use phase
One of the advantages of bamboo decking is its long lifespan. MOSO® Bamboo Decking boards even have a warranty of 25 years. As indicated in the growth phase, bamboo absorbs large amounts of CO2 through photosynthesis, which is captured for a long period of time due to the long lifespan. The CO2 is stored in the material for as long as the product is used. Like wood, bamboo is therefore a climate-friendly product, especially compared to other products that only emit CO2. A Life Cycle Analysis of solid MOSO® Bamboo Products, carried out by Delft University of Technology, has even shown that MOSO® Bamboo Decking is CO2 neutral over the entire life cycle (cradle to grave).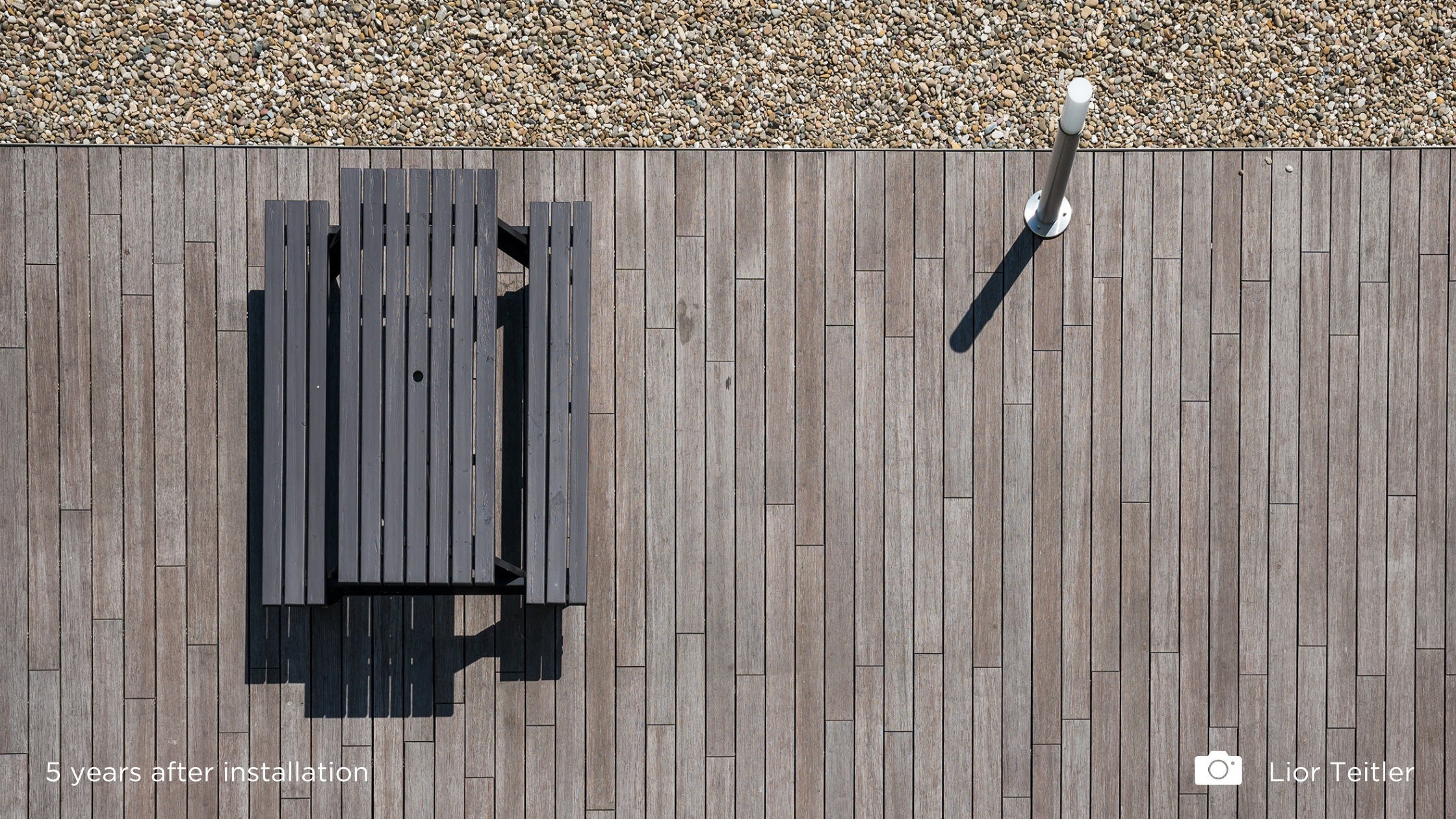 Waste phase
Bamboo decking boards can be reused in similar products but also for the production of bio-energy, amongst other things. Therefore bamboo decking fits perfectly into the circular economy concept.
The future of bamboo decking: 100% sustainable
Bamboo decking is already sustainable, especially when compared to alternatives such as composite and tropical hardwood. But beware: not all bamboo decking boards are equally sustainable. ISO certifications for the production facilities of bamboo decking, the FSC certificate and various environmental impact studies provide a good indication as to which bamboo decking boards are sustainable and which are not. Nevertheless, at this moment bamboo decking boards are not yet 100% sustainable. However, MOSO® aims to become even more sustainable in the future, for example, by continuing the search for a bio based glue and by implementing further improvements throughout the entire life cycle.
Decking Comparison Tool
In doubt about which type of decking is the most sustainable? Use our comparison tool to compare bamboo decking boards with hardwood and composite, among others.